Rachael Taylor wins Sun Trust Gator
Women's title by three strokes
By COLIN FARQUHARSON
Scot Rachael Taylor (North Carolina State University) scored her first win on the United States women's college golf circuit, finishing the Sun Trust Gator Women's Invite tournament with three shots to spare at the head of a field of 75 players.
Rachael, whose dad is a pro in Germany, shot rounds of 66, 70 and 74 for a total of 210 - three strokes ahead of runner-up Katja Pogacar (Ohio State) (69-70-74)
GB and I Curtis Cup team candidate pulled herself up into a respectable T7 finish on 216 with a closing round of 70, one of the best of the day, after a pair of 73s.
The three Texas-San Antonio students, Brogan Townend (79-74-76 for 229), Aimee Ponte (79-79-73 for 230) and Becky McGeehan (82-79-79 for 240) finished T46, T50 and T71 respectively
Rachael Taylor team-mate India Clyburn, a past Scottish Under-21 champion, shot 79-75-77 for 231 and a T54 position alongside Sophie Godley (Florida International) (76-69-86).
With no close back-up for Rachael Taylor, NC State finished fifth on 881 in the team event won by Florida (862) with Florida State (873) second, Ohio State (876) fourth and Oregon (877) fifth.
Texas-San Antonio (914) finished 12th of 13.
Rachael Taylor notches first college win as she nears end of N.C. State career, aims to turn pro in the autum

n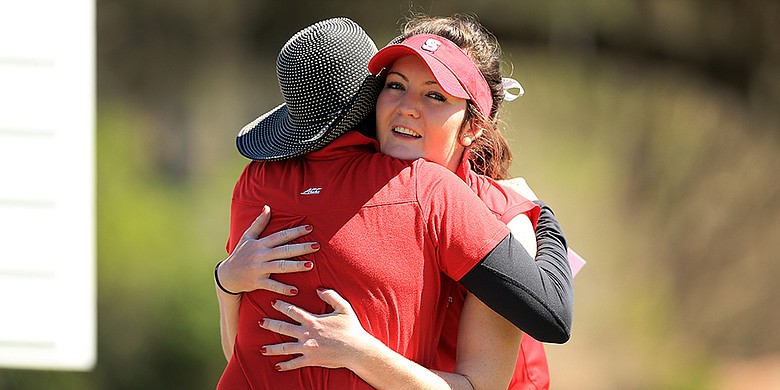 Scores
GAINESVILLE, Florida. — Rachael Taylor, with two career top-10s and devoid of a win in college, reacted the way you might expect with a sizable lead and victory No. 1 on the line.
Nerves jangling at the potential importance of a maiden college win, Taylor began giving away strokes in bunches Sunday at the SunTrust Gator Women's Golf Invitational. Only, Taylor's slip-ups didn't commence from the first tee. Rather, the moment started to engulf her at the 14th hole, where she made double bogey. But, by that point, it was too late for any of her competitors.
Taylor played her final five holes in 5 over at the Mark Bostick Golf Course on Sunday, but it didn't matter. The North Carolina State senior had built a seven-shot lead in the final round before the stretch, and the cushion was enough to land her a three-stroke individual win even as she faltered late.
---
---
The No. 32 Wolfpack fell from second to fifth on the final day, but Taylor's dropped shots couldn't prevent her from a wire-to-wire victory. The 23-year-old closed in 4-over 74 to fall to even par, but that was three shots clear of closest pursuer Katja Pogacar (Ohio State). Taylor's previous best finishes in college were both ties for fifth.
"The fact that I won hasn't really hit me yet," Taylor said. "I didn't really expect this. I just played my own game, and it worked out and gave me a win."
Taylor, Golfweek's No. 137, took the initiative from the beginning of action with an opening 4-under 66 that quickly pushed her three ahead. She reached 7 under midway through her second round Saturday to jump five in front. From there, she produced the same number of double bogeys (2) as birdies in reverting all the way back to level par.
But on a difficult course that ate up the entire field, it would have been inconceivable for any player to go 54 holes without some mistakes.
"I'm happy about this week," Taylor said "I had the chance to win, and I snatched it."
In her first try with a lead late in a college tournament, too. After Saturday, Taylor spoke about her significantly improved mental game that has came about via a surprisingly compatible mix of relaxation and structure.
While she noted there's still work to do after at times getting ahead of herself during the final round of the Gator Invitational, she mostly was able to stick to her principles in the face of pressure. Taylor managed to avoid thoughts about score, and kept up with her 18-month-old routine of viewing Jimmy Fallon videos the night before a round.
On Friday evening, Taylor watched some form of imitation on Fallon's late-night show. The next night was a re-viewing of Fallon's "Ew" segment with singer Jennifer Lopez.
The effect? Waking up ahead of a final-round lead not feeling any different at all.
"I was really content to be honest," Taylor said. "Same routine as always."
Taylor, who was born in Scotland but moved to Germany at three months old, also received her usual pre-round emoji text from her father on Sunday. Taylor's dad is a long-time club pro in Germany who has served as Taylor's main swing coach her entire career.
He'll continue in that regard as Taylor intends to embark on a pro career in the autumn
As the top-ranked Scot in the World Amateur Golf Ranking, Taylor appears a highly likely candidate to represent her country in the World Amateur Team Championships in September. But she has to remain amateur to do so.
She plans to compete there, turn pro almost immediately thereafter and then go to LPGA Q-School and a Ladies European Tour School Pre-Qualifier.
Taylor isn't exempt through any stages in either qualifying process, but she'll try to make it through both to give herself a cushion and to make possible a potential dual-tour status.
"I want to give myself two chances," Taylor said. "Playing golf on both tours, that's my ultimate dream."
In the meantime, though, college golf still beckons. Taylor's mom has attended two of her college events, but dad/swing coach has not been able to make the long trek for one of those tournaments. Taylor estimates a 50 percent chance, though, that her dad can make it out to the ACC Championship in Greensboro, N.C., next month.
Taylor also has a more immediate team experience: a group trip to Universal Studios theme park on Monday.
"I was told by the Oregon people not to go on the water slide because you get soaked," Taylor said. "But other than that, I'm just excited to go and try everything."
After the performance she put on this week, why wouldn't she?
Labels: US COLLEGES