LPGA tour: Lydia Ko wins 13th career title at Arkansas Championship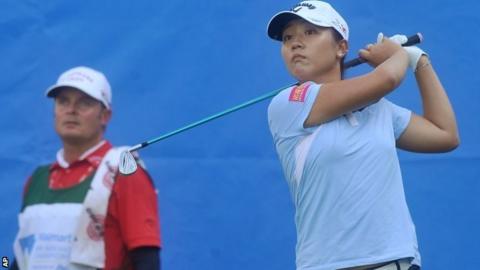 Teenager Lydia Ko took her tally of LPGA titles to 13 with a three-shot victory at the Arkansas Championship on Sunday.
The 19-year-old New Zealander claimed her third victory of the season despite ending her final round on Sunday with a bogey six on the par-five 18th hole.
"It wasn't the greatest ending to finish up with a six," Ko told the Golf Channel. "It covers up how well I played earlier on."
The world number one ended with a tournament-record 17 under par.
Her total of 196 in the 54-hole event at Pinnacle Country Club left her three shots clear of Taiwan's Candie Kung and American Morgan Pressel.
Ko's victory at the ANA Inspiration tournament in April made her the youngest two-time major winner in LPGA history.
Among those who missed the cut was Canadian-Scot Brooke Mackenzie Henderson, a winner a week or two ago.
SCOREBOARD
Par 213 (3x71)
| | | | | | | | | |
| --- | --- | --- | --- | --- | --- | --- | --- | --- |
| 1 | Lydia Ko | 66 | 62 | 68 | . | | 196 | $300,000 |
| T2 | Candie Kung | 64 | 66 | 69 | | | 199 | $157,838 |
| T2 | Morgan Pressel | 65 | 63 | 71 | | | 199 | $157,838 |
| T4 | Angela Stanford | 65 | 70 | 65 | | | 200 | $77,379 |
| T4 | Moriya Jutanugarn | 66 | 66 | 68 | | | 200 | $77,379 |
| T4 | Sandra Gal | 65 | 66 | 69 | | | 200 | $77,379 |
| T4 | Jing Yan | 65 | 65 | 70 | | | 200 | $77,379 |
| T8 | Sydnee Michaels | 70 | 67 | 64 | | | 201 | $41,469 |
| T8 | Minjee Lee | 65 | 69 | 67 | | | 201 | $41,469 |
| T8 | Sun Young Yoo | 65 | 68 | 68 | | | 201 | $41,469 |
| T8 | Giulia Molinaro | 66 | 65 | 70 | | | 201 | $41,469 |
| T8 | Alena Sharp | 65 | 65 | 71 | | | 201 | $41,469 |
| T13 | Chella Choi | 65 | 71 | 66 | | | 202 | $29,248 |
| T13 | Brittany Lincicome | 68 | 68 | 66 | | | 202 | $29,248 |
| T13 | Lee-Anne Pace | 67 | 67 | 68 | | | 202 | $29,248 |
| T13 | Brittany Altomare | 70 | 64 | 68 | | | 202 | $29,248 |
| T13 | So Yeon Ryu | 65 | 68 | 69 | | | 202 | $29,248 |
| T18 | Brittany Lang | 69 | 67 | 67 | | | 203 | $24,341 |
| T18 | Carlota Ciganda | 65 | 68 | 70 | | | 203 | $24,341 |
| T20 | Alison Lee | 73 | 65 | 66 | | | 204 | $21,436 |
| T20 | Gerina Piller | 69 | 68 | 67 | | | 204 | $21,436 |
| T20 | Xi Yu Lin | 69 | 66 | 69 | | | 204 | $21,436 |
| T20 | Nontaya Srisawang | 68 | 66 | 70 | | | 204 | $21,436 |
| T20 | Haeji Kang | 68 | 63 | 73 | | | 204 | $21,436 |
| T25 | Mo Martin | 68 | 71 | 66 | | | 205 | $17,071 |
| T25 | Vicky Hurst | 65 | 72 | 68 | | | 205 | $17,071 |
| T25 | Stacy Lewis | 67 | 70 | 68 | | | 205 | $17,071 |
| T25 | Megan Khang | 69 | 68 | 68 | | | 205 | $17,071 |
| T25 | Min Lee | 70 | 67 | 68 | | | 205 | $17,071 |
| T25 | Ayako Uehara | 62 | 74 | 69 | | | 205 | $17,071 |
| T25 | Danielle Kang | 70 | 65 | 70 | | | 205 | $17,071 |
| T32 | Becky Morgan | 69 | 69 | 68 | | | 206 | $11,678 |
| T32 | Su-Hyun Oh | 67 | 70 | 69 | | | 206 | $11,678 |
| T32 | Sarah Jane Smith | 68 | 69 | 69 | | | 206 | $11,678 |
| T32 | Paula Reto | 69 | 68 | 69 | | | 206 | $11,678 |
| T32 | Juli Inkster | 70 | 67 | 69 | | | 206 | $11,678 |
| T32 | Demi Runas | 69 | 68 | 69 | | | 206 | $11,678 |
| T32 | Eun-Hee Ji | 66 | 70 | 70 | | | 206 | $11,678 |
| T32 | Pornanong Phatlum | 66 | 70 | 70 | | | 206 | $11,678 |
| T32 | Jodi Ewart Shadoff | 69 | 67 | 70 | | | 206 | $11,678 |
| T32 | Jennifer Song | 69 | 66 | 71 | | | 206 | $11,678 |
| T32 | Lindy Duncan | 67 | 67 | 72 | | | 206 | $11,678 |
| T32 | Kelly Tan | 67 | 66 | 73 | | | 206 | $11,678 |
| T44 | Dori Carter | 67 | 71 | 69 | | | 207 | $8,063 |
| T44 | Mi Jung Hur | 72 | 67 | 68 | | | 207 | $8,063 |
| T44 | Karine Icher | 68 | 70 | 69 | | | 207 | $8,063 |
| T44 | Hyo Joo Kim | 69 | 69 | 69 | | | 207 | $8,063 |
| T44 | Ariya Jutanugarn | 66 | 71 | 70 | | | 207 | $8,063 |
| T44 | Jane Park | 68 | 68 | 71 | | | 207 | $8,063 |
| T50 | In Gee Chun | 68 | 71 | 69 | | | 208 | $6,110 |
| T50 | Maude-Aimee Leblanc | 71 | 68 | 69 | | | 208 | $6,110 |
| T50 | Beatriz Recari | 68 | 70 | 70 | | | 208 | $6,110 |
| T50 | Jenny Shin | 68 | 70 | 70 | | | 208 | $6,110 |
| T50 | Min Seo Kwak | 70 | 68 | 70 | | | 208 | $6,110 |
| T50 | In-Kyung Kim | 72 | 66 | 70 | | | 208 | $6,110 |
| T50 | Joanna Klatten | 67 | 70 | 71 | | | 208 | $6,110 |
| T50 | Haru Nomura | 68 | 69 | 71 | | | 208 | $6,110 |
| T50 | Austin Ernst | 69 | 68 | 71 | | | 208 | $6,110 |
| T50 | Amy Yang | 68 | 68 | 72 | | | 208 | $6,110 |
| T60 | Cristie Kerr | 67 | 72 | 70 | | | 209 | $4,558 |
| T60 | Gaby Lopez | 68 | 71 | 70 | | | 209 | $4,558 |
| T60 | Stephanie Meadow | 69 | 70 | 70 | | | 209 | $4,558 |
| T60 | Kris Tamulis | 69 | 70 | 70 | | | 209 | $4,558 |
| T60 | Sandra Changkija | 69 | 70 | 70 | | | 209 | $4,558 |
| T60 | Meena Lee | 69 | 68 | 72 | | | 209 | $4,558 |
| T60 | Caroline Hedwall | 70 | 67 | 72 | | | 209 | $4,558 |
| T60 | Ai Miyazato | 65 | 71 | 73 | | | 209 | $4,558 |
| T60 | Pannarat Thanapolboonyar | 66 | 70 | 73 | | | 209 | $4,558 |
| T60 | Marina Alex | 67 | 68 | 74 | | | 209 | $4,558 |
| T70 | Ji Young Oh | 69 | 70 | 71 | | | 210 | $3,957 |
| T70 | Felicity Johnson | 69 | 69 | 72 | | | 210 | $3,957 |
| T70 | Mi Hyang Lee | 68 | 69 | 73 | | | 210 | $3,957 |
| T73 | Jessica Korda | 69 | 70 | 72 | | | 211 | $3,784 |
| T73 | Brianna Do | 70 | 69 | 72 | | | 211 | $3,784 |
| T73 | Mina Harigae | 68 | 70 | 73 | | | 211 | $3,784 |
| T73 | Sadena Parks | 67 | 70 | 74 | | | 211 | $3,784 |
| 77 | Julieta Granada | 67 | 69 | 77 | | | 213 | $3,666 |
| T78 | Paula Creamer | 74 | 66 | MC | | | 140 | - |
| T78 | Laura Davies | 72 | 68 | MC | | | 140 | - |
| T78 | Celine Herbin | 69 | 71 | MC | | | 140 | - |
| T78 | Dani Holmqvist | 69 | 71 | MC | | | 140 | - |
| T78 | Sei Young Kim | 70 | 70 | MC | | | 140 | - |
| T78 | Pernilla Lindberg | 70 | 70 | MC | | | 140 | - |
| T78 | Lee Lopez | 72 | 68 | MC | | | 140 | - |
| T78 | Caroline Masson | 69 | 71 | MC | | | 140 | - |
| T78 | Maria McBride | 69 | 71 | MC | | | 140 | - |
| T78 | Mika Miyazato | 67 | 73 | MC | | | 140 | - |
| T78 | Belen Mozo | 68 | 72 | MC | | | 140 | - |
| T78 | Ryann O'Toole | 72 | 68 | MC | | | 140 | - |
| T78 | Sakura Yokomine | 71 | 69 | MC | | | 140 | - |
| T91 | Christel Boeljon | 72 | 69 | MC | | | 141 | - |
| T91 | Holly Clyburn | 74 | 67 | MC | | | 141 | - |
| T91 | Tiffany Joh | 72 | 69 | MC | | | 141 | - |
| T91 | Katherine Kirk | 72 | 69 | MC | | | 141 | - |
| T91 | Amelia Lewis | 70 | 71 | MC | | | 141 | - |
| T91 | Alejandra Llaneza | 71 | 70 | MC | | | 141 | - |
| T91 | Azahara Munoz | 72 | 69 | MC | | | 141 | - |
| T91 | Samantha Richdale | 71 | 70 | MC | | | 141 | - |
| T91 | Mariajo Uribe | 71 | 70 | MC | | | 141 | - |
| T100 | Q Baek | 70 | 72 | MC | | | 142 | - |
| T100 | Maria Fassi | 73 | 69 | MC | | | 142 | - |
| T100 | Lisa Ferrero | 71 | 71 | MC | | | 142 | - |
| T100 | Jaye Marie Green | 72 | 70 | MC | | | 142 | - |
| T100 | Brooke Henderson | 69 | 73 | MC | | | 142 | - |
| T100 | Hee Young Park | 71 | 71 | MC | | | 142 | - |
| T100 | Budsabakorn Sukapan | 72 | 70 | MC | | | 142 | - |
| T100 | Michelle Wie | 71 | 71 | MC | | | 142 | - |
| T108 | Jacqui Concolino | 70 | 73 | MC | | | 143 | - |
| T108 | Casey Grice | 72 | 71 | MC | | | 143 | - |
| T108 | Natalie Gulbis | 69 | 74 | MC | | | 143 | - |
| T108 | Daniela Iacobelli | 71 | 72 | MC | | | 143 | - |
| T108 | P.K. Kongkraphan | 65 | 78 | MC | | | 143 | - |
| T108 | Se Ri Pak | 74 | 69 | MC | | | 143 | - |
| T108 | Regina Plasencia | 72 | 71 | MC | | | 143 | - |
| T108 | Ashleigh Simon | 70 | 73 | MC | | | 143 | - |
| T108 | Christine Song | 71 | 72 | MC | | | 143 | - |
| T108 | Yani Tseng | 75 | 68 | MC | | | 143 | - |
| T108 | Cheyenne Woods | 72 | 71 | MC | | | 143 | - |
| T108 | Julie Yang | 75 | 68 | MC | | | 143 | - |
| T120 | Mirim Lee | 75 | 69 | MC | | | 144 | - |
| T120 | Benyapa Niphatsophon | 73 | 71 | MC | | | 144 | - |
| T120 | Annie Park | 71 | 73 | MC | | | 144 | - |
| T120 | Marion Ricordeau | 73 | 71 | MC | | | 144 | - |
| T120 | Cyna Marie Rodriguez | 75 | 69 | MC | | | 144 | - |
| T120 | Kelly Shon | 72 | 72 | MC | | | 144 | - |
| T120 | Bertine Strauss | 68 | 76 | MC | | | 144 | - |
| T127 | Laetitia Beck | 68 | 77 | MC | | | 145 | - |
| T127 | Stephanie Kono | 75 | 70 | MC | | | 145 | - |
| T127 | Alana Uriell | 70 | 75 | MC | | | 145 | - |
| T130 | Ssu-Chia Cheng | 74 | 72 | MC | | | 146 | - |
| T130 | Na Yeon Choi | 75 | 71 | MC | | | 146 | - |
| T130 | Nannette Hill | 76 | 70 | MC | | | 146 | - |
| T130 | Ashlan Ramsey | 71 | 75 | MC | | | 146 | - |
| T130 | Anne-Catherine Tanguay | 72 | 74 | MC | | | 146 | - |
| T130 | Alison Walshe | 72 | 74 | MC | | | 146 | - |
| T136 | Amy Anderson | 74 | 73 | MC | | | 147 | - |
| T136 | Sarah Kemp | 73 | 74 | MC | | | 147 | - |
| T136 | Giulia Sergas | 75 | 72 | MC | | | 147 | - |
| 139 | Grace Na | 73 | 75 | MC | | | 148 | - |
| T140 | Simin Feng | 73 | 76 | MC | | | 149 | - |
| T140 | Briana Mao | 75 | 74 | MC | | | 149 | - |
| 142 | Rachel Rohanna | 76 | 76 | MC | | | 152 | - |
| 143 | Ilhee Lee | 72 | 81 | MC | | | 153 | - |
| 144 | Hannah Collier | 81 | 79 | MC | | | 160 | - |
| . | | | | | | | | |
| | | | | | | | | |
| | | | | | | | | |
Labels: LPGA TOUR