Jenny Shin scores first LPGA Tour win to
Last-round slump costs Catriona Matthew
a fistful of dollars
SKYSPORTS.COM By Mark Ashenden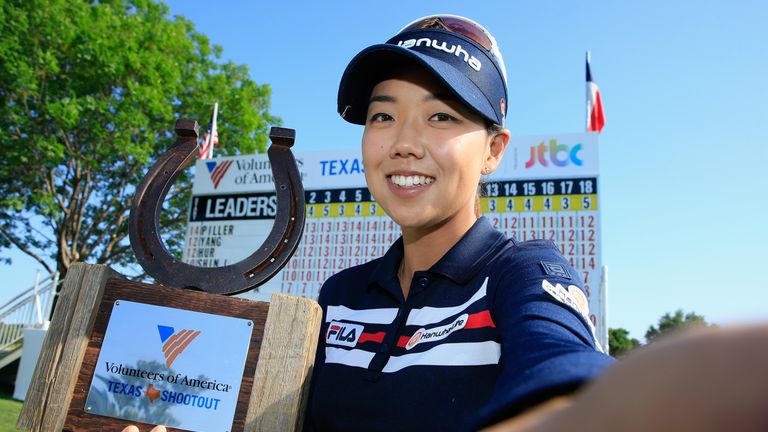 Jenny Shin claimed a first LPGA Tour victory with a two-shot win at the Volunteer of America Texas Shootout, where Gerina Piller's hopes slipped away during the final day.
Making her 133rd Tour start, Shin closed with a four-under 67 to finish at 14 under par. The 23-year-old South Korean player went to high school in Torrance, California, and won the 2006 US Girls' championship.
"Still in awe. Nothing has registered yet," Shin said. "I wanted to talk to my mum, but I was on the verge of tears, so I hung up without really her answering the phone. I think it will hit me as soon as I talk to my mum."
Third-round leader Gerina Piller, the area resident seeking her first Tour victory, birdied the final hole for a 73 to tie for second with South Koreans Amy Yang and Mi Jung Hur.
Yang and Hur each shot par 71 over a 6,462yd course.
Shin birdied three of the first five holes and added another on the par-five 10th. She closed with eight pars, the last an up-and-down save from right of the green on the par-five 18th. Other players showered her with beer after the victory.
"It wasn't something I pictured, for sure," Shin said. "I wanted something like champagne, but now I'm stinking of beer. Then they were like, 'Oh, you stink of beer'." Then they shower you more with water. But it's still good. I'm so glad they stuck around and gave me a shower of beer."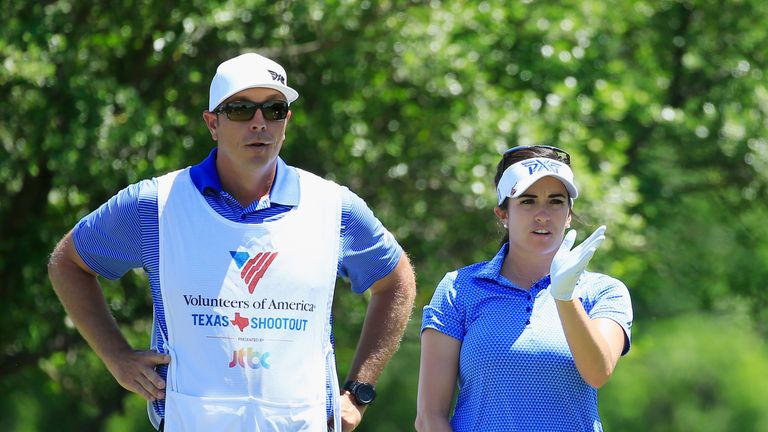 She's projected to jump from 38th to 24th in the world ranking.
"Nothing's easy, golf is not easy," Shin said. "I worked my butt off out there. I didn't have my 'A' game this week, surprisingly, and to know that I won with kind of a semi-goodish game, it makes me very happy."
Piller lives in Plano, about 20 miles from Las Colinas. The long-hitting US Solheim Cup heroine grew up in Roswell, New Mexico, and played at the University Texas-El Paso. A number of high school and college friends joined her family, led by her husband, US PGA Tour player Martin Piller in the gallery.
"The thing that makes it more special is I don't have to play good golf for them to continue to love me, so that's pretty cool," Piller said. "No matter what I shoot, no matter what I do, they're behind me."
Fifth-ranked Canadian-Scot Brooke Mackenzie Henderson closed with a 71 to tie for 19th at three under, ending the 18-year-old's string of top-10 finishes at eight.
Cheyenne Knight, a 19-year-old University of Alabama freshman from nearby Aledo, had a 72 to tie for 30th at one under. Karah Sanford, a 14-year-old high school freshman from San Diego, tied for 51st at six over after a 77.
BRITWATCH (by Colin Farquharson). Charley Hull finished the top British player in joing 16th place with scores of 71, 69, 68 and 72 for 280. She earned $16,895.
Catriona Matthew suffered a last-round slump that cost her a fistful of dollars. She had scores of 68, 70, 68 and six-over 77 for a total of 283 and a T29 finish which earned hr $10,176.
Becky Morgan shot 73, 68, 71 and 74 for 42nd place on 286. She earned $6,482
Jodi Ewart Shadoff earned $5,963 for a 287 total (69-70-74-74) and a T43 finish.
FINAL TOTALS
par 284 (4x71) Yardage 6462
| | | | | | | | | | |
| --- | --- | --- | --- | --- | --- | --- | --- | --- | --- |
| 1 | Jenny Shin | 68 | 70 | 65 | 67 | . | | 270 | $195,000 |
| T2 | Mi Jung Hur | 66 | 69 | 66 | 71 | | | 272 | $90,231 |
| T2 | Gerina Piller | 67 | 65 | 67 | 73 | | | 272 | $90,231 |
| T2 | Amy Yang | 68 | 68 | 65 | 71 | | | 272 | $90,231 |
| 5 | Shanshan Feng | 72 | 69 | 65 | 68 | | | 274 | $53,472 |
| 6 | Ariya Jutanugarn | 69 | 66 | 69 | 72 | | | 276 | $43,749 |
| T7 | Na Yeon Choi | 74 | 67 | 68 | 68 | | | 277 | $32,515 |
| T7 | Eun-Hee Ji | 67 | 66 | 71 | 73 | | | 277 | $32,515 |
| T7 | Sei Young Kim | 68 | 67 | 68 | 74 | | | 277 | $32,515 |
| T10 | Karine Icher | 71 | 67 | 70 | 70 | | | 278 | $24,413 |
| T10 | Cristie Kerr | 72 | 67 | 69 | 70 | | | 278 | $24,413 |
| T10 | Mirim Lee | 70 | 71 | 67 | 70 | | | 278 | $24,413 |
| T13 | In Gee Chun | 69 | 73 | 70 | 67 | . | | 279 | $20,005 |
| T13 | Sarah Jane Smith | 72 | 71 | 67 | 69 | | | 279 | $20,005 |
| T13 | Jacqui Concolino | 69 | 70 | 69 | 71 | | | 279 | $20,005 |
| T16 | Angela Stanford | 70 | 71 | 69 | 70 | | | 280 | $16,895 |
| T16 | Candie Kung | 71 | 67 | 71 | 71 | | | 280 | $16,895 |
| T16 | Charley Hull | 71 | 69 | 68 | 72 | | | 280 | $16,895 |
| T19 | Gaby Lopez | 72 | 71 | 70 | 68 | | | 281 | $14,648 |
| T19 | Brooke Mackenzie Henderson | 69 | 68 | 73 | 71 | | | 281 | $14,648 |
| T19 | Stacy Lewis | 74 | 70 | 67 | 70 | | | 281 | $14,648 |
| T19 | So Yeon Ryu | 67 | 73 | 68 | 73 | | | 281 | $14,648 |
| T23 | Nannette Hill | 70 | 68 | 73 | 71 | | | 282 | $12,163 |
| T23 | Ashleigh Simon | 71 | 69 | 71 | 71 | . | | 282 | $12,163 |
| T23 | Belen Mozo | 70 | 69 | 71 | 72 | | | 282 | $12,163 |
| T23 | Marina Alex | 70 | 72 | 68 | 72 | | | 282 | $12,163 |
| T23 | Paula Reto | 73 | 69 | 68 | 72 | | | 282 | $12,163 |
| T23 | Dori Carter | 71 | 69 | 69 | 73 | | | 282 | $12,163 |
| T29 | Cheyenne Knight | 70 | 69 | 72 | 72 | | | 283 | - |
| T29 | Simin Feng | 71 | 70 | 70 | 72 | | | 283 | $10,176 |
| T29 | Carlota Ciganda | 69 | 72 | 69 | 73 | | | 283 | $10,176 |
| T29 | Catriona Matthew | 68 | 70 | 68 | 77 | | | 283 | $10,176 |
| T33 | Casey Grice | 69 | 69 | 75 | 71 | | | 284 | $8,831 |
| T33 | Anna Nordqvist | 73 | 69 | 70 | 72 | | | 284 | $8,831 |
| T33 | Min Seo Kwak | 70 | 69 | 72 | 73 | | | 284 | $8,831 |
| T33 | Briana Mao | 74 | 69 | 68 | 73 | . | | 284 | $8,831 |
| T37 | Lee-Anne Pace | 72 | 69 | 72 | 72 | | | 285 | $7,337 |
| T37 | Katie Burnett | 74 | 70 | 69 | 72 | | | 285 | $7,337 |
| T37 | Christel Boeljon | 74 | 68 | 70 | 73 | | | 285 | $7,337 |
| T37 | Danielle Kang | 69 | 70 | 72 | 74 | | | 285 | $7,337 |
| T37 | Annie Park | 70 | 70 | 71 | 74 | | | 285 | $7,337 |
| 42 | Becky Morgan | 73 | 68 | 71 | 74 | | | 286 | $6,482 |
| T43 | Jodi Ewart Shadoff | 69 | 70 | 74 | 74 | | | 287 | $5,963 |
| T43 | Mo Martin | 72 | 70 | 71 | 74 | | | 287 | $5,963 |
| T43 | Brittany Altomare | 74 | 67 | 71 | 75 | | | 287 | $5,963 |
| T46 | Lee Lopez | 71 | 69 | 72 | 76 | | | 288 | $5,315 |
| T46 | Giulia Molinaro | 70 | 70 | 71 | 77 | . | | 288 | $5,315 |
| T46 | Morgan Pressel | 70 | 71 | 70 | 77 | | | 288 | $5,315 |
| T49 | Benyapa Niphatsophon | 70 | 71 | 72 | 76 | | | 289 | $4,828 |
| T49 | Moriya Jutanugarn | 75 | 68 | 68 | 78 | | | 289 | $4,828 |
| T51 | Karah Sanford (am) | 73 | 69 | 71 | 77 | | | 290 | - |
| T51 | Wei-Ling Hsu | 71 | 69 | 71 | 79 | | | 290 | $4,537 |
| 53 | Kelly Shon | 74 | 69 | 70 | 80 | | | 293 | $4,408 |
Labels: LPGA TOUR