Lydia Ko carries three-stroke lead into final round
of Kia Classic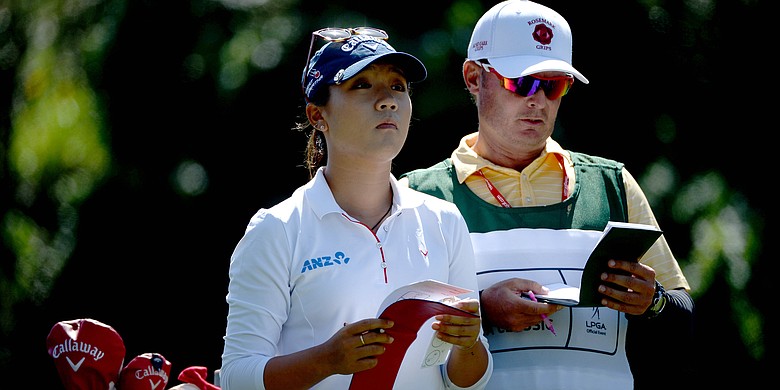 Carlsbad, California – The good news for Brittany Lang, Jenny Shin and Sung Hyun Park: They're tied for second at the LPGA Kia Classic.
The trio – who have one LPGA title between them – trail World No. 1 Lydia Ko by three strokes heading into the final round.
"That's the problem," said Lang.
Tough to chase down a player who makes so few mistakes. Ko hit 14 fairways and 16 greens in her third-round 67 and sits at 14-under 202 - 12 strokes ahead of Catriona Matthew who had a 71 for 214 and is T36)
The 18-year-old Ko won her national open in Christchurch, New Zealand, but has yet to snag an LPGA title in 2016. Not that anyone is concerned.
"She's something else," said Lang.
While Shin and Lang are established tour players, Park is unknown to most American golf fans. The long-hitting South Korean is playing a three-week stretch on the LPGA this spring, using sponsor exemptions in both Phoenix and Carlsbad. She earned an invitation to next week's ANA Inspiration by virtue of her top-30 ranking. Park, currently ranked No. 28 in the world, is a four-time winner on the Korean LPGA and tops the money list.
The Kia is Park's third LPGA start. She tied for second last year at the KEB HanaBank Classic in Korea and tied for 13th last week at the JTBC Founders Cup.
Veteran caddie Jeff King met Park last Monday in Phoenix. While Park's English skills make it difficult to know too much about his interim boss, King is impressed with her length, fearlessness and distance control.
"I'll draw a picture here and there," he said of communicating on the course. "She understands golf talk."
Lurking four strokes back is No. 2 Inbee Park, who seems to be finding her groove after a back injury. This tournament is a warm-up for Inbee speciality: major madness.
No one knows how to peak for the big ones like Inbee, a seven-time major champion and future LPGA Hall of Fame inductee.
But back to this week, where all eyes will be on Ko this Easter Sunday. She's comfortable with the spotlight, having already won 10 times in her young LPGA career. Twice Ko has finished runner-up in 2016, at the Founders Cup and Australian Women's Open. She placed third at the Coates Golf Championship.
Victory is imminent.
"I'm really proud with the way I played today," Ko said.
It will take a massive effort to stop her now.
Minjee Lee never made an ace. Never made an albatross. She crossed both of her list with one swing of a 5-wood on the par-4 16th at the LPGA Kia Classic.
Lee, 19, posted only the second hole-in-one on a par 4 in tour history. The first came in January at the season-opening Pure Silk Bahamas LPGA Classic. Ha Na Jang bowed down and kissed the ground in dramatic fashion when she holed out from 218 yards on the par-4 eighth hole at the Ocean Golf Club.
Lee, an Aussie in her second year on tour, had a more subdued celebration.
"I didn't see it go in," said Lee, who played alongside Morgan Pressel.
"(Morgan) was just like 'Oh!' and I was like 'Yay!' "
Lee hit 5-wood from 234 yards right to left downwind. The ball landed short of the green and bounded up toward the hole as if on a string, rattling off the flagstick before dropping in the cup.
She posted a 2-under 70 in the third round and is currently tied for 18th at 5-under 211.
"It's pretty cool," said Lee, winner of last year's Kingsmill Championship. "I can't put it into words."
THIRD-ROUND SCOREBOARD
Par 216 (3x72)
Labels: LPGA TOUR