Bronte Law helps UCLA to team win but loses play-off for individual title in California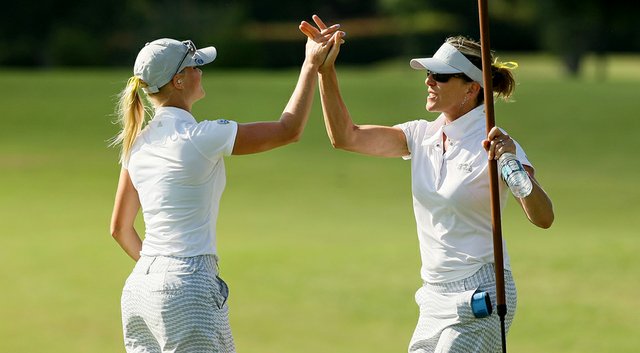 Final scores
The University of California-Los Angeles (UCLA), which co-hosted this week, felt at home all three rounds at the Bruin Wave Invitational, as the Bruins posted a 14-shot, wire-to-wire win on Tuesday.
And that was just one of a couple victories for the group at San Luis Obispo Country Club in San Luis Obispo, California
As the No. 5 Bruins' 4-over total (289-287-292) put them 14 clear of No. 14 Arizona State (293-293-296), they had a monopoly on the top of the individual leaderboard, too.
Bruins freshman Lilia Vu began the day with the lead, and while she fell back to a tie for fifth at 1 over following a closing 76, two of her team-mates, Louis Ridderstrom and English champion Bronte Law from Bramhall, Cheshire seized on a shot at the individual title.
GB and I international team player Law, a third-year student and one of the top candidates for the ANNIKA Award, was certainly the favourite to win that duel. Ridderstrom had two top-10s in 2015-16 entering the event but her two latest finishes previous to Tuesday were T-51, T-48, and Law's No. 3 national ranking far surpasses Ridderstrom's No. 170 mark.
And for much of the day, it looked like it would go Law's way. The junior, who started the round 2 under, posted five birdies against two bogeys in her first 11 holes to race out to the lead. Ridderstrom began the day five back at 2 over and made a huge charge with five birdies in her first 14 holes.
A bogey on 17 brought her down but a 15-foot birdie on 18 gave her a 5-under 67 and put her in the clubhouse at 3 under.
Still, Law just needed to make pars to secure the title. But on a difficult lay-out, two bogeys down the stretch moved her back to 3 under and a 54-hole medalist tie with her team-mate on 213 over the 6,259yd course.
Law posted rounds of 72, 70 and 71; Ridderstrom 75, 71 and 67.
The duo went to a play-off, where Ridderstrom won the outright title with an up-and-down on the second extra hole.
It was Ridderstrom's first college win.
USA Curtis Cup selection Bethany Wu (225, T-18) rounded out the counting scores for the Bruins. UCLA earned its second victory of the season with the 14-shot win.
The other USA Curtis Cup team player for the June match, World ranked No 13 Monica Vaughan (Arizona State) finished T9 on 219 with rounds of 75, 74 and 70.
Arizona State's Sophia Zeeb posted a final-round 72 but she was disqualified after signing an incorrect scorecard. Zeeb's Tuesday score, therefore, could not be included in Arizona State's final-day tally.
With Zeeb's score not counting, the Sun Devils used Roberta Liti's 82 as the team's fourth score, instead. While the final-round disqualification ultimately didn't affect Arizona State's runner-up spot, the Sun Devils finished 14 strokes, rather than four, back of UCLA because of the error.
No. 15 California placed third at 34 over, with No. 18 San Diego State and No. 12 Oklahoma State one back of that in a tie for fourth in a field of 16 teams.
Emma Henrikson, Golfweek's No. 17, led the Aztecs with a one-under 215 (75, 68, 72) total for solo third, while No. 87 Maddie McCrary (even par, fourth) paced the Cowboys and No. 54 Hannah Suh and No. 84 Lucia Gutierrez (1 over, T-5) led the Bears.
Co-host Pepperdine placed 10th at 57 over.
Jessica Carty, pictured, from Northern Ireland and a student at Denver finished T59 on 238 with scores of 83, 79 and 76. There were 86 individual competitors.
UCLA resumes action on March 21 at the SDSU Farms Invitational in Rancho Santa Fe, California
TO VIEW ALL THE FINAL TOTALS,
CLICK HERE
Labels: US COLLEGES