Instagram star Paige Spiranac misses cut in pro
debut; vows break from social media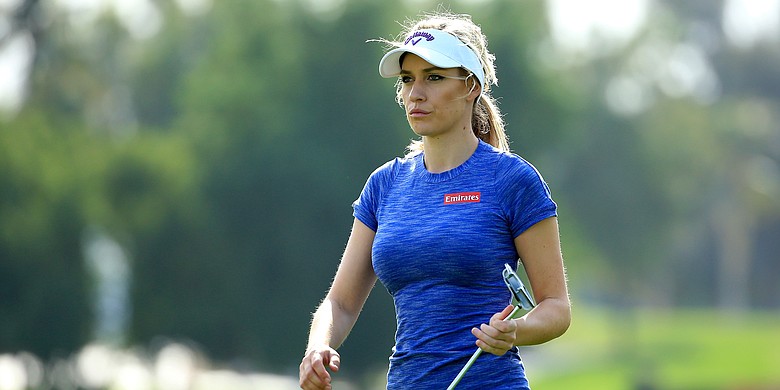 It was a long week of questions and concerns for Paige Spiranac off the course, but it was a short week on the links for the 22-year-old.
Spiranac fired rounds of 77 and 79 to miss the cut by several shots at the Ladies European Tour's Omega Dubai Ladies Masters on Friday. She only beat three players for the week in Dubai and was 22 shots worse than leader Shanshan Feng.
Why is an aspiring pro's (predictably) rocky debut consequential? Well, Spiranac's rise to golfing fame has been unconventional, as the recent San Diego State grad has earned a large following in the sport via her social media presence.
Coined "an Instagram star," Spiranac has rocketed to more than half a million followers on the social media outlet largely through her trick shot videos and selfie posts displaying her model-like looks. Spiranac received a sponsor's invitation to play in this week's Dubai event, and posted about her appreciation for the opportunity to jumpstart her pro golf career.
But others were rubbed the wrong way by the invitation, as they felt Spiranac didn't gain the spot for competitive reasons but only because of her social media fame.
"I understand where they are coming from. I mean, I've played golf and have had good results, but when you look at my game compared to the top players in the world, I'm not in the same league," Spiranac told the Telegraph. "But I wish they could see that I'm working as hard as I can. I may make it, I may not make it. But I'm just trying to focus on what I need to do to get to the next level and trying not to focus on what they say."
Spiranac was open all week about her fragile nerves ahead of her pro debut. And the emotions continued throughout her tournament, as she admitted the tough showing was "the hardest days of my life" with the stress and pressure adding up. In the end, the social media star who dipped into the pool of competitive golf apparently is now out indefinitely ... from social media.
"I'm definitely not going to look at my phone for a while, probably take a break from social media to step away and re-evaluate everything," she said.
Internet fame is as double-edged as ever.
Labels: Pro Ladies