International Crown Tournament at Illinois
England's good start against Team USA
Gurnee, Illinois - Chinese Taipei (2-0-0) in Pool A and England (2-0-0) in Pool B took the early lead at the 2016 UL International Crown Tournament by sweeping their matches on day one, defeating Team Australia and Team U.S.A. during Thursday's four-ball matches
.

Match Recaps
Chinese Taipei (5) vs Australia (4)
Chinese Taipei came out strong, just like in 2014, sweeping both of their day one matches. Yani Tseng and Teresa Lu defeated Karrie Webb and Su Oh 3 and 2 in the opening match of the Tournament. However in 2014, Chinese Taipei went on to lose their Friday and Saturday matches but have come up with a strategy to make sure that doesn't happen again this year.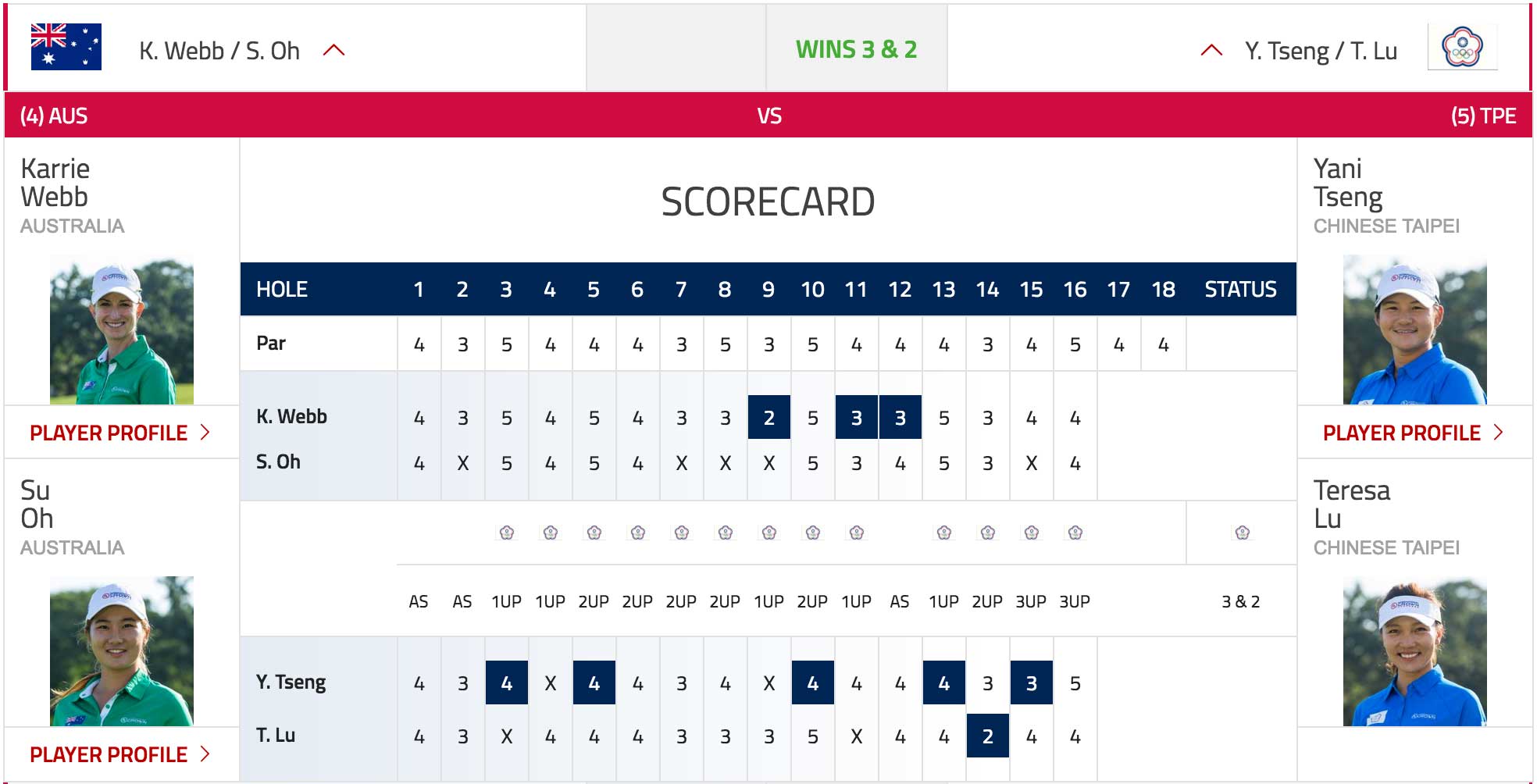 "We're not going to do the same thing like last time," Yani Tseng said following her match. "We're going to figure it out because tomorrow we're against Korea, and they're very strong, so I think we've got to figure out how do we tee up and try to get the point tomorrow instead of can we spread out a little bit.
"So me and Candie and Teresa, we're going to talk about the strategy for tomorrow. I think it's going to be a little different than last year."
Candie Kung and Ssu-Chia Cheng defeated Minjee Lee and Rebecca Artis by two holes in the second match of the Tournament to secure the sweep for Chinese Taipei.
"We were just trying to play our own golf out there," Candie Kung told the media following her match. "They were making birdies, making eagles, and we were making birdies out there, too. She played awesome today. We just kept it in there."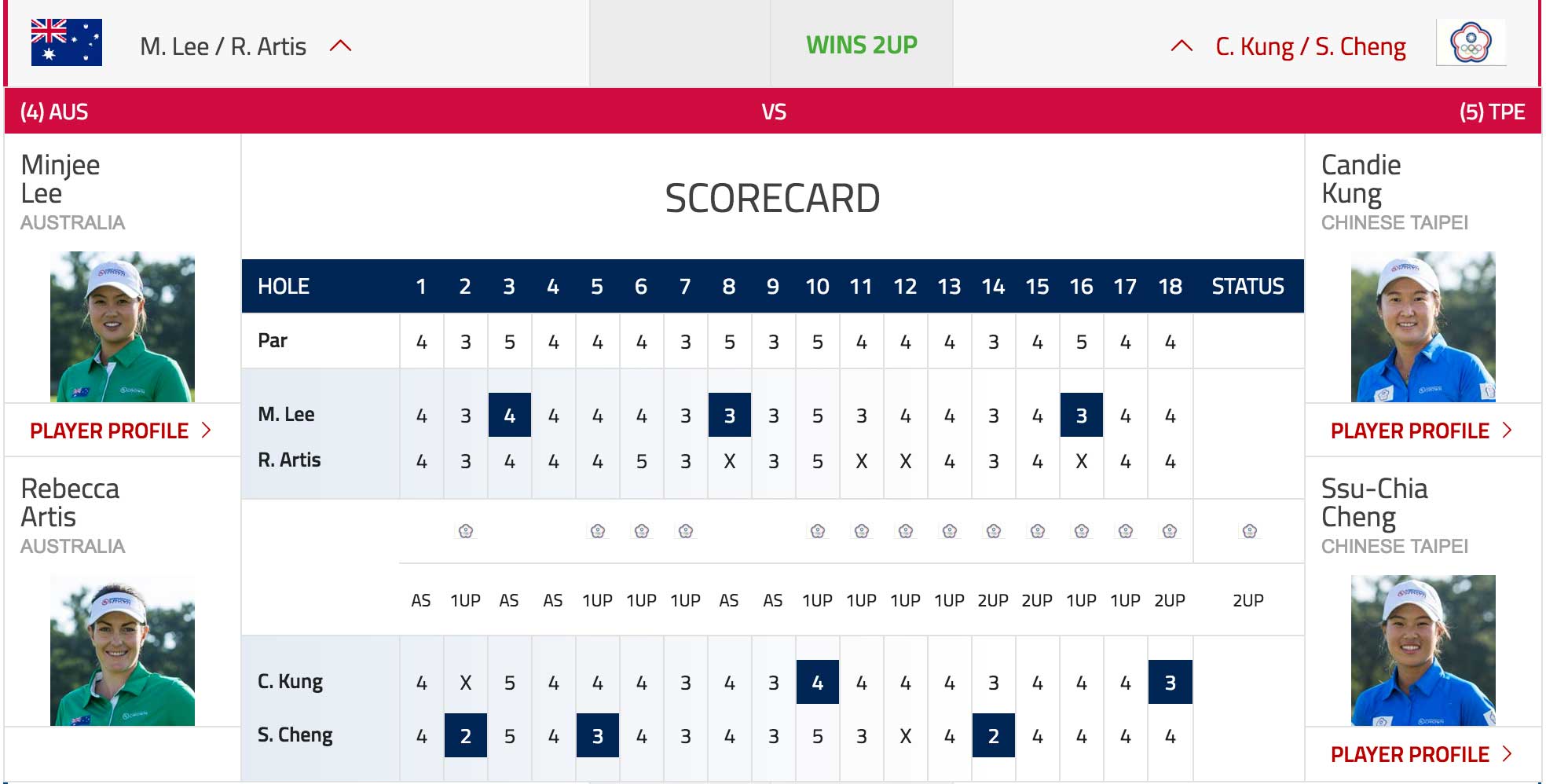 VIDEO - Team Australia vs Team Chinese Taipei Day 1 Highlights
VIDEO - Yani Tseng and Teresa Lu post match interview
Thailand (6) vs Japan (3)
Thailand (1-0-1) secured three points during Thursday's matches vs Japan (0-1-1) thanks to one victory and one halved match. Moriya Jutanugarn and Pornanong Phatlum defeated Mika Miyazato and Haru Nomura 2 and 1 and said communication was the key to Thailand's success on day one.
"We talked through the game all the way," Pornanong Phatlum said during Team Thailand's press conference. "Good communication, good teamwork, and the 17th and 18 holes is very good, and Moriya, she gave advice on the line and everything that is perfect. Today is good, very good."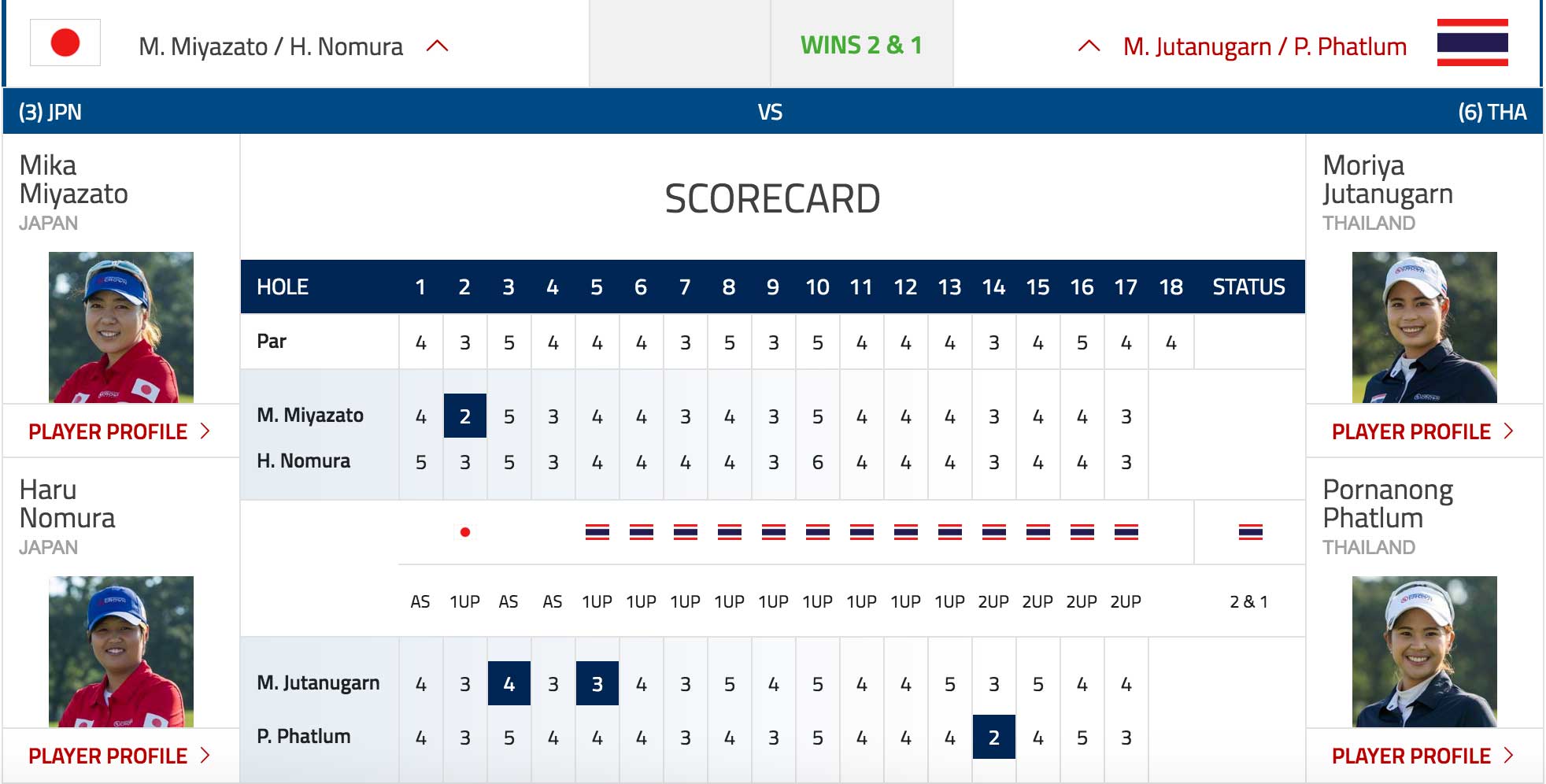 Ariya Jutanugarn and Porani Chutichai halved their match with Ai Suzuki and Ayaka Watanabe, each earning a point for their respective countries.
Ariya Jutanguarn, who has predicted a few times that Thailand will win the 2016 UL International Crown, made seven birdies during Thursday's match and attributed that to the strong play of her partner, Porani Chutichai.
"I feel like more comfortable every time I make a birdie because she made par already and I know she's a good putter, so she kept me calm." Ariya explained to the media.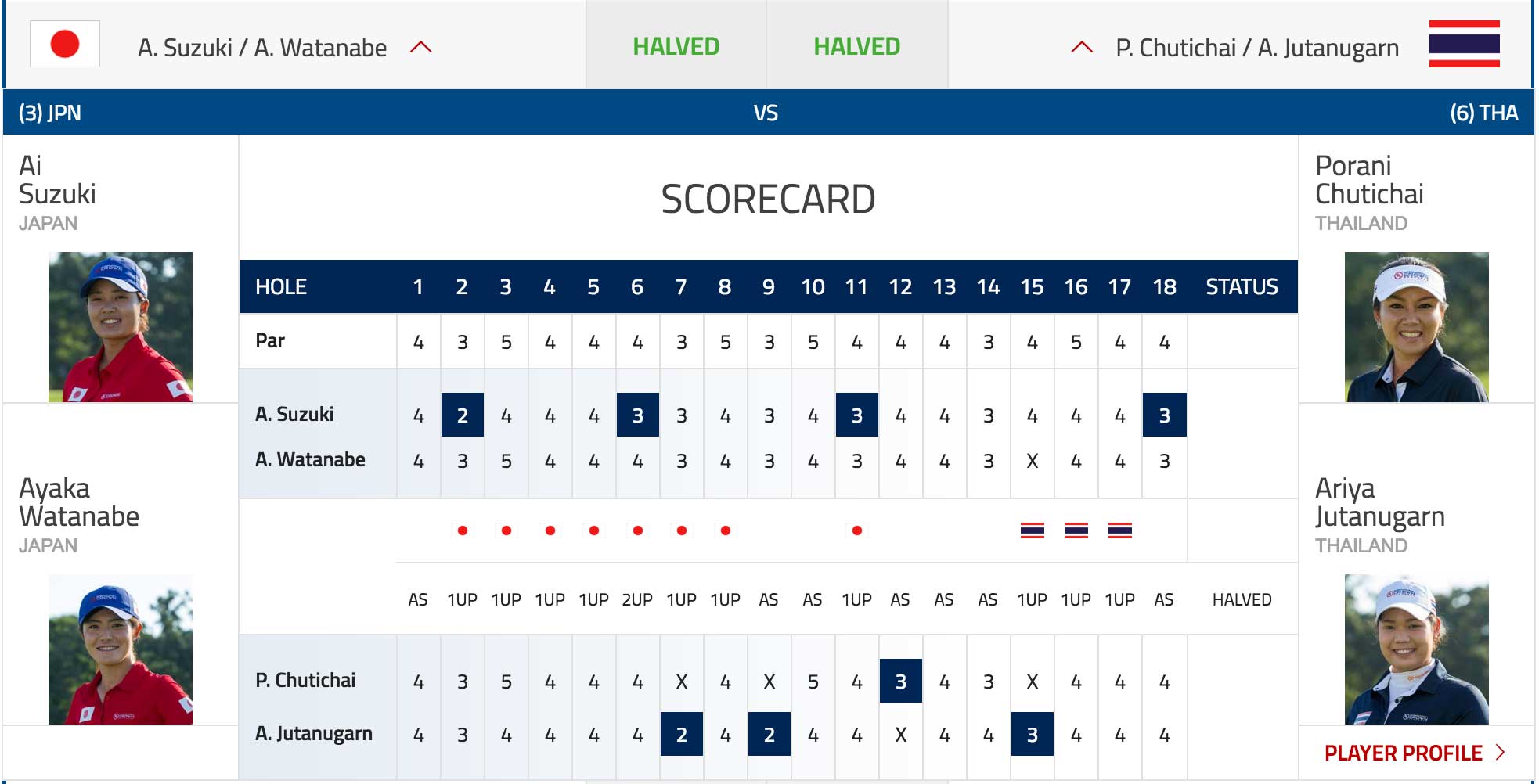 VIDEO - Team Thailand vs Team Japan Day 1 Highlights
VIDEO - Ariya Jutanugarn post match interview
England (7) vs United States (2)
Team England (2-0-0) came out swinging in their match up with the United States (0-2-0), sweeping both matches and taking an early lead in Pool B.
Holly Clyburn and Jodi Ewart Shadoff defeated Cristie Kerr and Lexi Thompson 2 and 1, giving Team England their first two points of the day. Ewart Shadoff credited their team chemistry for helping them stay loose and have fun out on the course.
"Ever since we got here this week, the team has bonded really well," Jodi explained during their press conference. "I knew that coming into it everyone was going to get on really well. Everyone is really laid back.
"You know, it helps. We were walking down the fairway right next to each other the whole time today...I think we're having a lot of fun out there, and it definitely helped."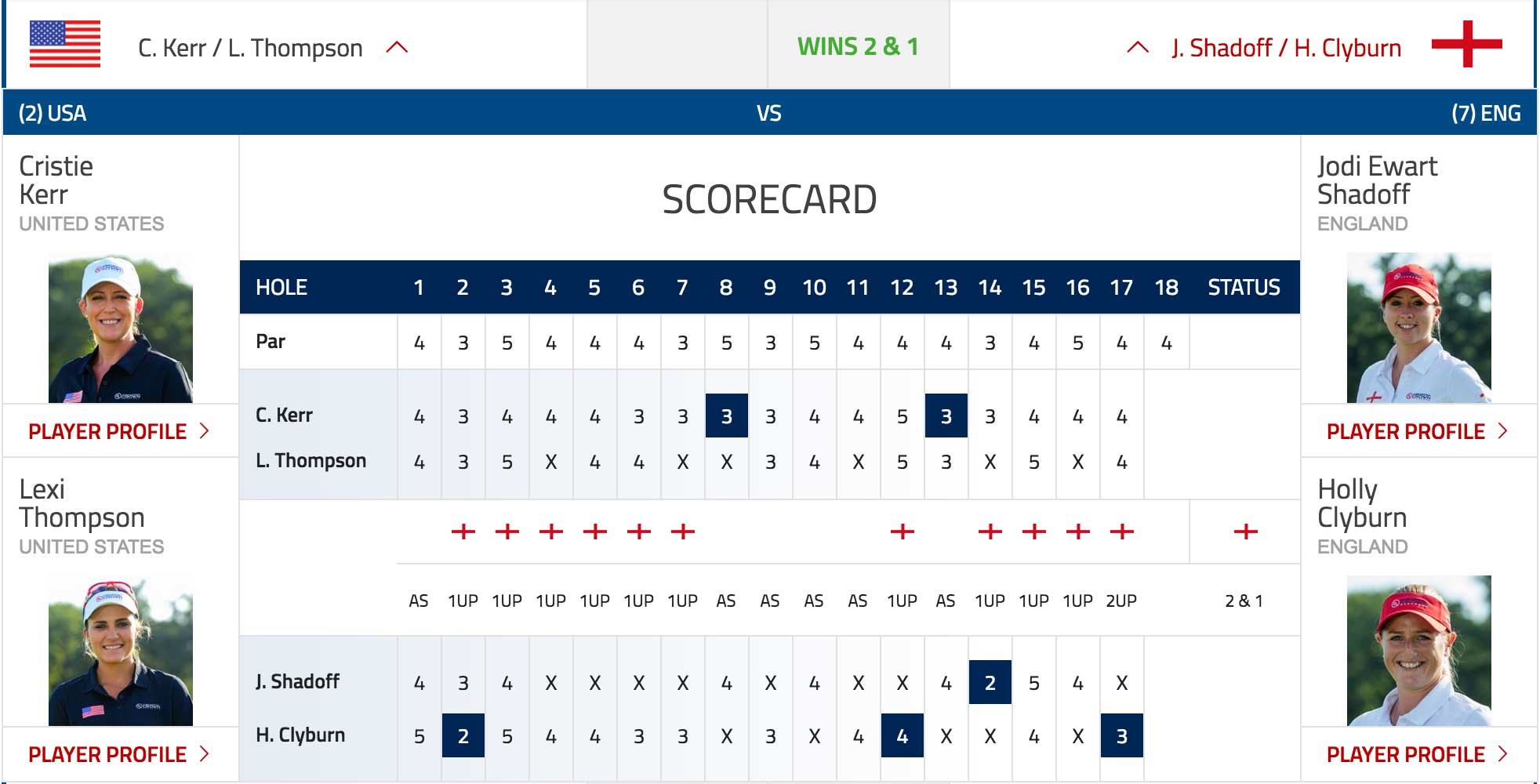 Charley Hull and Mel Reid defeated Gerina Piller and Stacy Lewis 2 and1 to secure the sweep and pick up an additional two points for Team England. Hull credited their underdog status as a source of fuel for their solid play.
"I just love playing in this kind of environment, especially when you are a bit of an underdog," Hull told the media during their press conference.
"I just like proving people wrong, and it just makes you go out there, gives you a little bit more of a buzz....I think it definitely helped us in a way because even people not cheering us on the golf course, we kind of like it because it makes us want to keep on making birdies and keep their crowd quiet.
"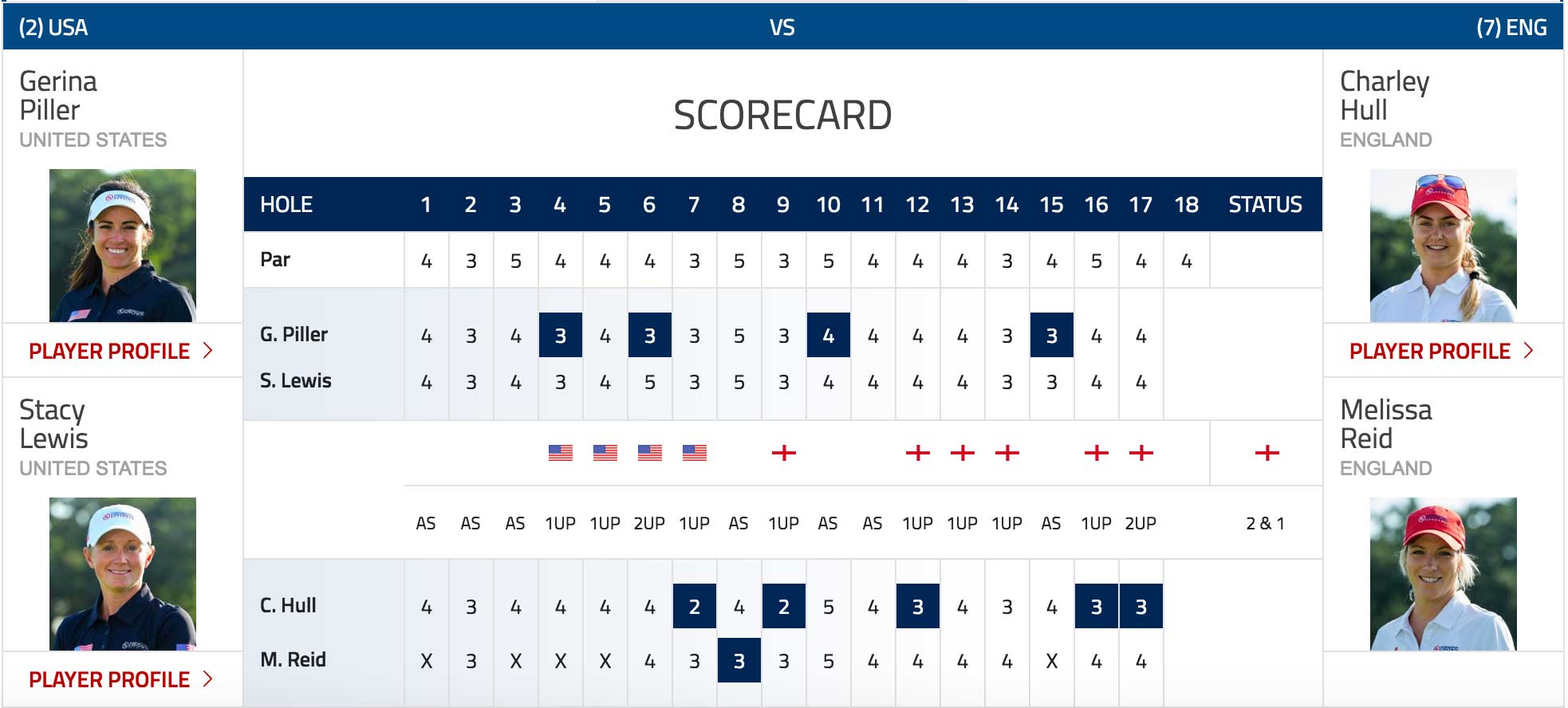 VIDEO - Team England vs Team Unite States Day 1 Highlights
VIDEO - Charley Hull and Mel Reid post match interview
China (8) vs Republic of South Korea (1)
Amy Yang and In Gee Chun commanded Thursday's match against China's Shanshan Feng and Xi Yu Lin, who held their only lead of the day on the fourth hole. Yang carded four birdies in her first seven holes to take a 2-UP lead over Feng and Lin and never turned back, winning 1-Up to earn the only points of the day for Team Korea.
"Yes, it was a good atmosphere. It felt like I really had to do well," Yang said after the match. " Too many good tensions out there and made some good putts early in this round, but late in the afternoon I started to make some mistakes here and there.
" I only need to make par just to take some pressure off In Gee, but I just kept making mistakes. Gave her a lot of pressure today, important putts out there."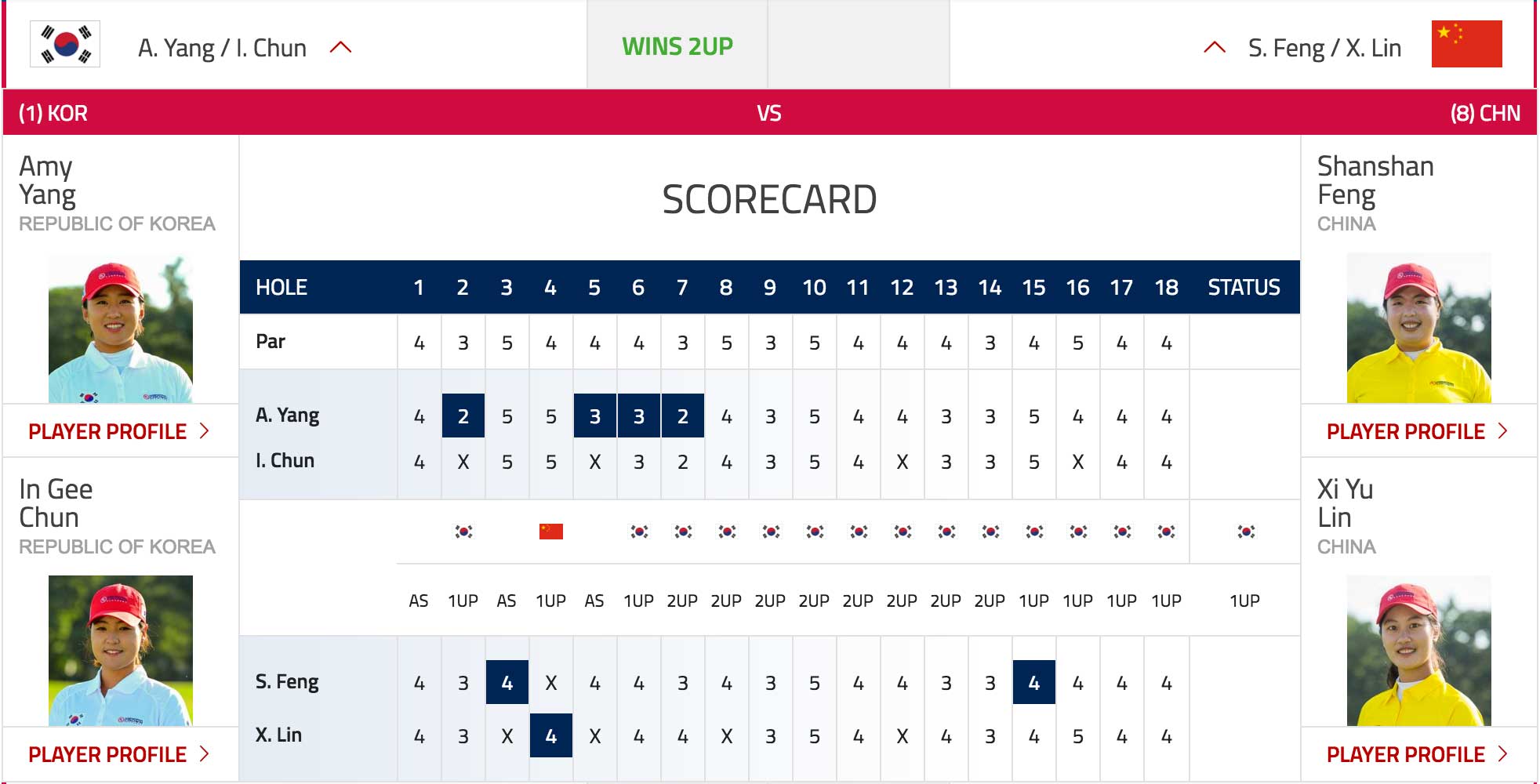 Team Korea's So Yeon Ryu and Sei Young Kim didn't find the same success as their teammates on Thursday, falling 1-Down to Jing Yan and Simin Feng of China.
"Well, actually I think we played pretty great. Sei Young made a lot of birdies, then so am I, then especially Sei Young made a lot of clutch putts. It was awesome, and I really enjoyed playing -- actually how she plays, it was a really fun day," Ryu said after the match.
"But yeah, the Chinese girls just played really, really great. They made an eagle, they made a bunker shot. I think their teamwork was really nice. Like when one missed a tee shot, the other one would just make a good birdie or have a good make-up."
Yan and Feng said they enjoyed playing together, focused on having fun which they say was the key to their success.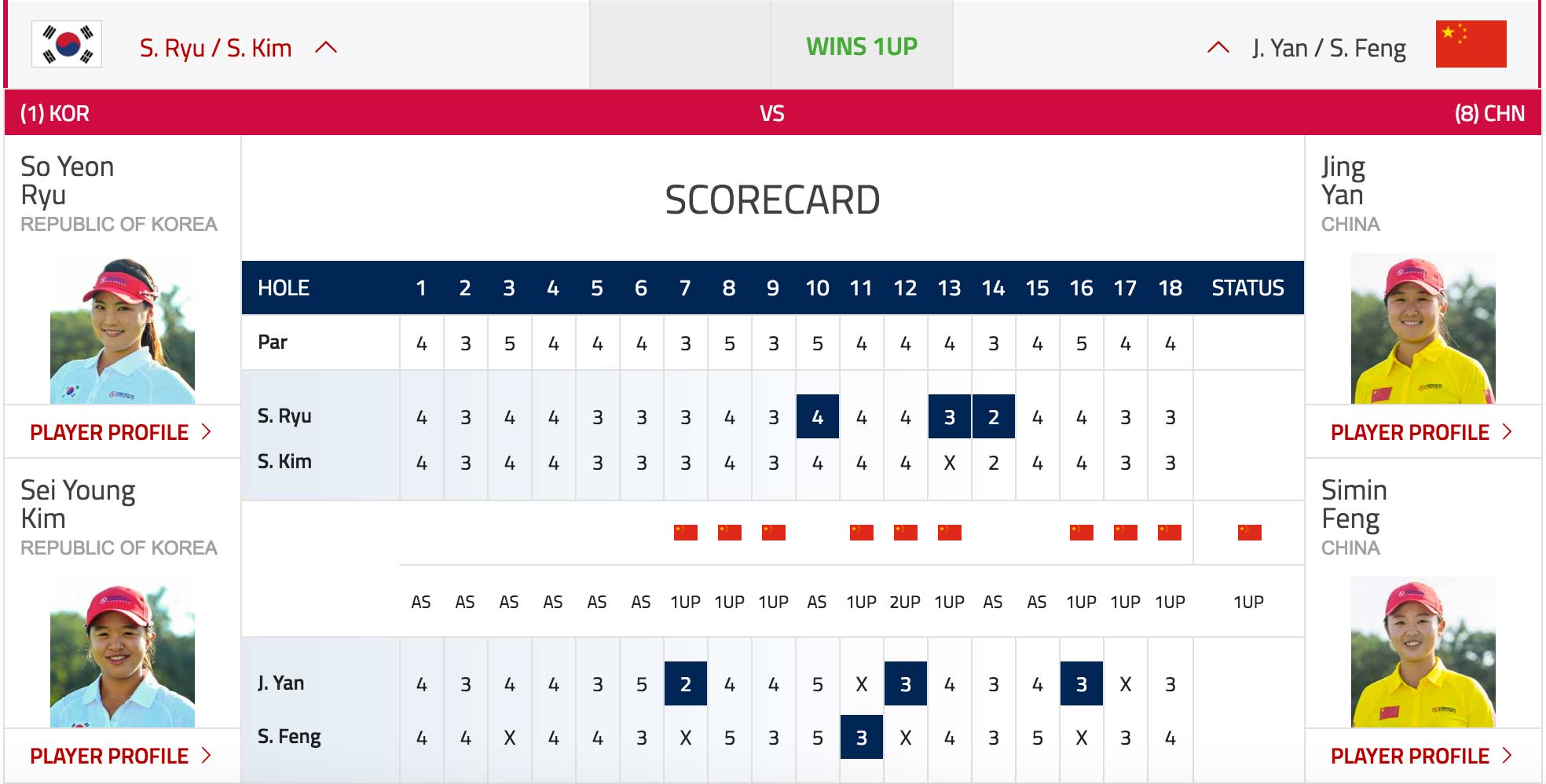 Labels: LPGA TOUR