Anna Nordqvist fires superb 64 to retain ShopRite LPGA Classic
By Keith Jackson
SKYSPORTS.COM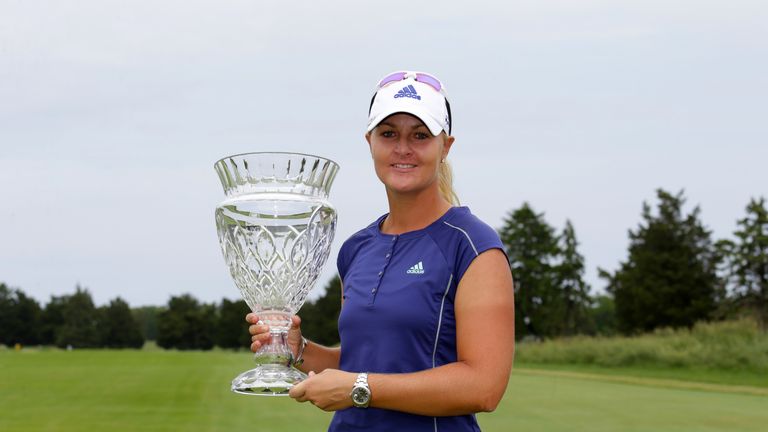 Anna Norqvist became the first player to successfully defend the ShopRite LPGA Classic title as she fired a flawless 64 to snatch a one-shot victory in New Jersey.
Nordvist defied strong breezes on the final day at the Stockton Seaview Golf Club to make five birdies in an outward 32, and she picked up further shots at the 12th and 16th to claim the outright lead.
The Swede almost faltered at the par-five last, but she held her nerve to hole a clutch par putt from 12 feet and her clubhouse target of 17 under proved to be enough for her sixth LPGA Tour win after Haru Nomura's valiant 66 left her one stroke adrift.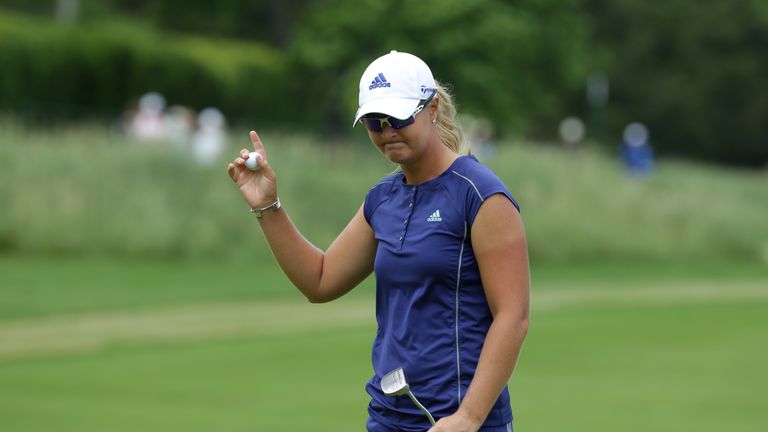 Nordqvist, who celebrates her 29th birthday on Friday, also became the oldest winner on the Tour this year by some distance, with all the previous 14 events being won by players aged 23 or under.
"It feels really special because I've been playing pretty good all spring," said the Solheim Cup star. "I just haven't really got any results, and it really got frustrating there for a while.
"My caddie just told me to stay patient and so did the rest of my team, because they knew how well I was playing, getting really zero out of it. Sometimes the longer you have to wait and the more patient you have to stay, the sweeter it feels when it finally pays off."
Nomura moved to 15 under after making her fifth birdie of the day at the 11th, but she was unable to convert any further chances until closing with a four at the 18th.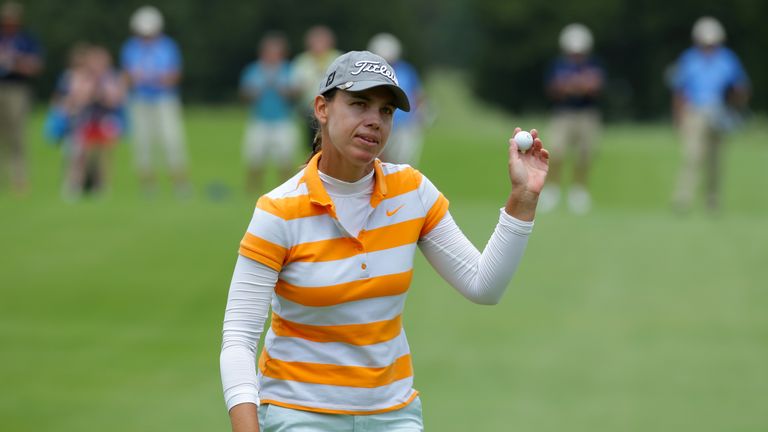 Overnight leader Karine Icher had to settle for outright third place on 14 under after the French player birdied the last to complete a two-under 69 which featured costly dropped shots at the fourth and 13th holes.
Charley Hull produced a confidence-boosting finish as she fired a 67 to earn a tie for 14th on seven under, but Scottish veteran Catriona Matthew, who was just one off the lead after opening with a 65, stumbled to a 73 to slip to three under and finished T31.
FINAL TOTALS
PAR 213 (3X71)
| | | | | | | | | |
| --- | --- | --- | --- | --- | --- | --- | --- | --- |
| 1 | Anna Nordqvist | 64 | 68 | 64 | | | 196 | $225,000 |
| 2 | Haru Nomura | 65 | 66 | 66 | | | 197 | $138,191 |
| 3 | Karine Icher | 68 | 62 | 69 | | | 199 | $100,248 |
| 4 | Christina Kim | 69 | 66 | 65 | | | 200 | $77,549 |
| 5 | Jing Yan | 67 | 69 | 66 | | | 202 | $62,419 |
| T6 | Mika Miyazato | 70 | 69 | 64 | | | 203 | $39,116 |
| T6 | Brittany Lang | 69 | 70 | 64 | | | 203 | $39,116 |
| T6 | Annie Park | 67 | 73 | 63 | | | 203 | $39,116 |
| T6 | Christel Boeljon | 66 | 68 | 69 | | | 203 | $39,116 |
| T6 | I.K. Kim | 69 | 66 | 68 | | | 203 | $39,116 |
| T11 | Danielle Kang | 67 | 69 | 68 | | | 204 | $26,555 |
| T11 | Jacqui Concolino | 68 | 66 | 70 | | | 204 | $26,555 |
| T11 | Na Yeon Choi | 67 | 64 | 73 | | | 204 | $26,555 |
| T14 | Charley Hull | 73 | 66 | 67 | | | 206 | $19,577 |
| T14 | Beatriz Recari | 66 | 72 | 68 | | | 206 | $19,577 |
| T14 | Jennifer Song | 69 | 70 | 67 | | | 206 | $19,577 |
| T14 | Sakura Yokomine | 67 | 72 | 67 | | | 206 | $19,577 |
| T14 | Kim Kaufman | 68 | 69 | 69 | | | 206 | $19,577 |
| T14 | Samantha Richdale | 68 | 68 | 70 | | | 206 | $19,577 |
| T14 | Jodi Ewart Shadoff | 66 | 69 | 71 | | | 206 | $19,577 |
| T14 | Mariajo Uribe | 69 | 65 | 72 | | | 206 | $19,577 |
| T22 | Sandra Gal | 72 | 67 | 68 | | | 207 | $13,955 |
| T22 | Jenny Shin | 70 | 69 | 68 | | | 207 | $13,955 |
| T22 | Lizette Salas | 67 | 71 | 69 | | | 207 | $13,955 |
| T22 | Karrie Webb | 67 | 70 | 70 | | | 207 | $13,955 |
| T22 | Pernilla Lindberg | 69 | 68 | 70 | | | 207 | $13,955 |
| T22 | Celine Herbin | 70 | 67 | 70 | | | 207 | $13,955 |
| T22 | Sarah Kemp | 71 | 69 | 67 | | | 207 | $13,955 |
| T22 | Ashleigh Simon | 71 | 69 | 67 | | | 207 | $13,955 |
| T22 | Ai Miyazato | 64 | 71 | 72 | | | 207 | $13,955 |
| T31 | Elizabeth Wang | 73 | 66 | 69 | | | 208 | - |
| T31 | Katherine Kirk | 66 | 72 | 70 | | | 208 | $9,021 |
| T31 | Maude-Aimee Leblanc | 66 | 72 | 70 | | | 208 | $9,021 |
| T31 | Ayako Uehara | 68 | 70 | 70 | | | 208 | $9,021 |
| T31 | Ssu-Chia Cheng | 68 | 69 | 71 | | | 208 | $9,021 |
| T31 | Cydney Clanton | 72 | 68 | 68 | | | 208 | $9,021 |
| T31 | Paula Reto | 64 | 75 | 69 | | | 208 | $9,021 |
| T31 | Mi Hyang Lee | 70 | 70 | 68 | | | 208 | $9,021 |
| T31 | Xi Yu Lin | 67 | 69 | 72 | | | 208 | $9,021 |
| T31 | Kelly Tan | 70 | 70 | 68 | | | 208 | $9,021 |
| T31 | Catriona Matthew | 65 | 70 | 73 | | | 208 | $9,021 |
| T31 | Marissa Steen | 67 | 73 | 68 | | | 208 | $9,021 |
| T31 | Gaby Lopez | 68 | 67 | 73 | | | 208 | $9,021 |
| T31 | Gerina Piller | 68 | 73 | 67 | | | 208 | $9,021 |
| T45 | Brooke Henderson | 69 | 70 | 70 | | | 209 | $6,431 |
| T45 | Lee Lopez | 70 | 69 | 70 | | | 209 | $6,431 |
| T45 | Wei-Ling Hsu | 69 | 68 | 72 | | | 209 | $6,431 |
| T48 | Hannah Collier | 71 | 68 | 71 | | | 210 | $5,361 |
| T48 | Kelly Shon | 70 | 69 | 71 | | | 210 | $5,361 |
| T48 | Ilhee Lee | 71 | 67 | 72 | | | 210 | $5,361 |
| T48 | Giulia Sergas | 70 | 68 | 72 | | | 210 | $5,361 |
| T48 | Amelia Lewis | 66 | 73 | 71 | | | 210 | $5,361 |
| T48 | Daniela Iacobelli | 68 | 68 | 74 | | | 210 | $5,361 |
| T48 | Hee Young Park | 70 | 71 | 69 | | | 210 | $5,361 |
| T55 | Sarah Jane Smith | 68 | 70 | 73 | | | 211 | $4,171 |
| T55 | Caroline Hedwall | 69 | 70 | 72 | | | 211 | $4,171 |
| T55 | Holly Clyburn | 69 | 70 | 72 | | | 211 | $4,171 |
| T55 | Simin Feng | 71 | 67 | 73 | | | 211 | $4,171 |
| T55 | Joanna Klatten | 72 | 68 | 71 | | | 211 | $4,171 |
| T55 | Stephanie Meadow | 66 | 70 | 75 | | | 211 | $4,171 |
| T55 | Kris Tamulis | 67 | 68 | 76 | | | 211 | $4,171 |
| T55 | Anne-Catherine Tanguay | 71 | 70 | 70 | | | 211 | $4,171 |
| T63 | Tiffany Joh | 75 | 64 | 73 | | | 212 | $3,594 |
| T63 | Nannette Hill | 73 | 68 | 71 | | | 212 | $3,594 |
| T65 | Marina Alex | 72 | 68 | 73 | | | 213 | $3,442 |
| T65 | Nontaya Srisawang | 72 | 69 | 72 | | | 213 | $3,442 |
| T67 | Jennifer Johnson | 70 | 70 | 74 | | | 214 | $3,253 |
| T67 | Stacy Lewis | 66 | 74 | 74 | | | 214 | $3,253 |
| T67 | Maria McBride | 69 | 72 | 73 | | | 214 | $3,253 |
| T70 | Lindy Duncan | 67 | 73 | 75 | | | 215 | $3,039 |
| T70 | Brittany Altomare | 72 | 69 | 74 | | | 215 | $3,039 |
| T70 | Mina Harigae | 71 | 70 | 74 | | | 215 | $3,039 |
| 73 | Ji Young Oh | 70 | 71 | 76 | | | 217 | $2,950 |
| 74 | Casey Grice | 65 | 76 | 80 | | | 221 | $2,912 |
| 75 | Bertine Strauss | 70 | 71 | 82 | | | 223 | $2,875 |
Labels: LPGA TOUR