FIRST MAJOR OF SEASON
Miyazato, Munoz share ANA Inspiration lead, Catriona Matthew tied 3rd on four under par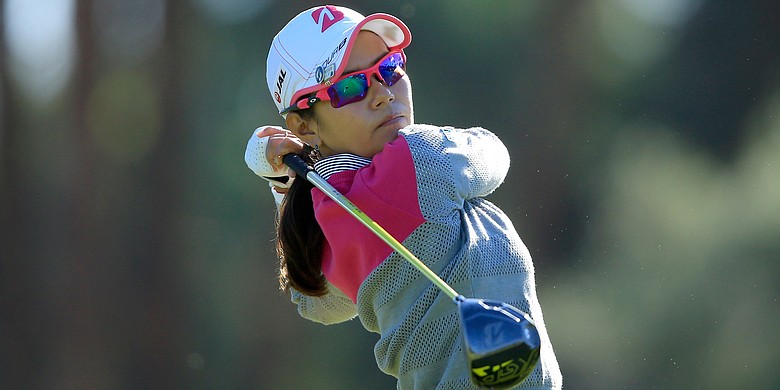 In 12 previous LPGA starts in 2016, Ai Miyazato and Azahara Munoz had combined for just one top-30 finish. But that didn't seem to matter on Thursday.
The pair matched scores of 5-under 67 at Mission Hills' Dinah Shore Tournament Course, moving into an early share of the lead at the ANA Inspiration. Miyazato went bogey-free and Munoz posted a flawless scorecard until a surprising bogey at the par-5 18th.
"It's always exciting to be here," Miyazato said. "I know a lot of history and background. Well, obviously I haven't really played well on this golf course, but finally my game is coming all together."
That on-course progression began emerging last week. Ahead of the Kia Classic, Miyazato's best finish all year had been a tie for 50th. But thanks to bookend rounds of 67 and 66 at Aviara Golf Club, Miyazato posted a third-place showing in California.
She's followed it up with another score in the mid-60s, and apparently the nine-time LPGA winner saw all of this coming.
"I've been feeling good about my game since the beginning of the season," Miyazato said. "I said to myself just be patient until the scoring is going to be good. I had a good self talk since the beginning of the season, so I actually had have confidence since then."
Following a similar path in performances, Munoz is also starting to see her labor bear fruit. The one-time LPGA winner has also espoused a positive attitude despite her results not matching her outlook.
"It's funny because I've been really working on my attitude, but the results haven't really showed, even though I've been doing so much better," Munoz told the media. "But I just -- I know I need to keep believing in myself."
While nobody went too low in Rancho Mirage, California on the opening day of the first women's Major of the season, a total of 39 players ended it in red, sub-par figures.
Former Women's British Open champion Catriona Matthew from North Berwick leads a trio tied third at 4 under, while several big names lurk a tiny further back.
Lexi Thompson and Ha Na Jang (3 under) and Lydia Ko, Inbee Park and Michelle Wie (2 under) all find themselves within a few of the lead.
Hannah O'Sullivan's 72 marked the best among the amateur contingent on Thursday. Leona Maguire, No 1 in the Women's Amateur Rankings, had a 75.
Dame Laura Davies believes Lydia Ko will be pushed to match the achievements of the legendary Annika Sorenstam despite the "incredible" start to her career.
Ko has already won 11 LPGA Tour titles at the age of 18 despite the presence of consistently strong fields, including a vast South Korean contingent led by current world No 2 and seven-time major champion Inbee Park.
The teenage superstar is favourite to land her second straight major at this week's ANA Inspiration in California, where she opened with a solid two-under 70 to lie just three off the early pace.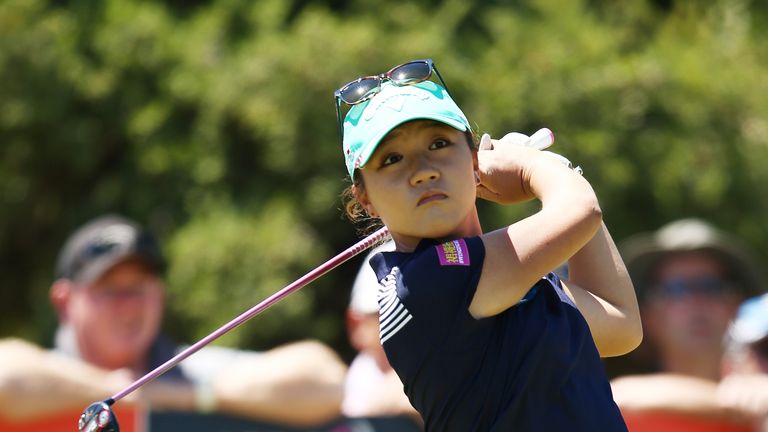 "This (tournament) is one of the biggest events of the year for the ladies, and it's basically our version of The Masters," Davies told
Sky Sports
. "It's at the same course every year, and it's a great place. As soon as you get through the gates, you feel the atmosphere, see the set up and you know it's a major.
"It's such a top course. You get very long rough which you don't have every week, and it's a course where the better players will win. You cannot get away with playing average golf, you've got to be on top of your game, and that's why I'd pick Lydia Ko to win.
"Hopefully Charley Hull will have a good run, and Inbee Park finished second last week so I wouldn't be surprised to see her and Lydia fighting out another tournament.
"Lydia is just incredible. To put her achievements into perspective, I won 20 LPGA Tour events over 28 years, and she's already won 11 in three years and she's still only 18. A winning rate of four per year is extraordinary, and it's so tough to be that consistent because every week sees a strong field.
"The prospect of her keeping that up should be a little unrealistic, and I thought it would be impossible to match what Annika Sorenstam achieved in her career. But the way Lydia has started out, she's on pace to keep up with Annika. Time will tell if she can keep this going, and if she can, it will be astounding.
"She just doesn't hit any bad shots, and if she does miss the odd green, she gets up and down most of the time because her short game is so good. She literally has no weaknesses."
Live LPGA Tour Golf
April 1, 2016, 5:00pm
Live on

Scroll down past this new picture of Catriona Matthew to view all the first-round scores
Catriona in Matthew in action in California yesterday - picture by Joyce Hunnam.
ALL THE FIRST-ROUND SCORES
Par 72
Labels: LPGA TOUR