Catriona Matthew tied sixth at four under par in San Francisco
Ryu So-yeon holds two-shot lead in Swinging Skirts LPGA Classic
From Sky Sports News HQ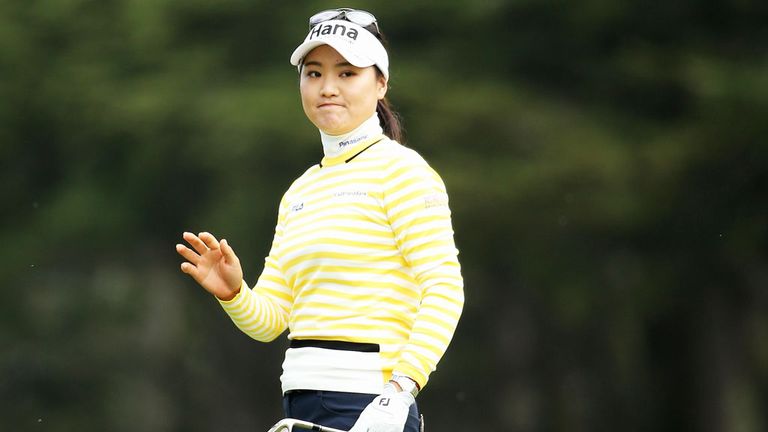 Ryu So-yeon shot a tournament-record nine-under-par 63 in the opening group in the first round of the Swinging Skirts LPGA Classic.
The South Korean was top of the leaderboard from start to finish throughout Thursday to secure a two-shot edge over her nearest rivals in San Francisco.
Ryu was bright and alert from the start and signed for a bogey-free round that gave her an advantage over Taiwan's Candie Kung and Haru Nomura of Japan.
"Well, I was kind of lucky to tee off really early," Ryu said. "I had a really fresh green, no wind. Also San Francisco is really cold in the morning, but this morning it was just the perfect temperature.
"Then today everything was just great. My tee shot was great. I only missed one green today. I shot 17 greens. My putting was really good."
Ryu needed just 27 putts on the first day, while Nomura carded her lowest round of 2016 with a seven-under par 65 in the opening session.
Kung bounced back from two opening bogeys by following up with nine birdies on the day.
Lin Xi Yu, of China and France's Christel Boeljon are tied for fourth at five-under par. Lin is coming off her second missed cut of the year.
Ryu may have the longest streak going but it hasn't translated into first-place prize money. She has struggled to break through since winning the Canadian Women's Open in 2014. That was also the last time she held a first-round lead.
"One thing I can say is I work really hard and my whole team works really hard. Hopefully it's going to pay off next three days," Ryu said.
Defending champion Lydia Ko is tied for sixth at four-under par with a group that includes Catriona Matthew, Choi Na-Yeon and Rachel Rohanna. Ko battled in the first round, hitting just nine of 14 fairways and 10 of 18 greens.
ALL THE FIRST-ROUND SCORES
Par 72
Labels: LPGA TOUR