Sei Young Kim equals Annika Sorenstam's 27-under-par LPGA record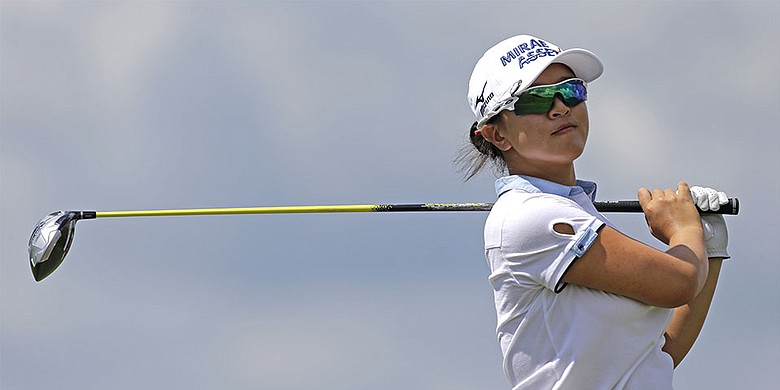 Sei Young Kim came into the JTBC Founders Cup searching for confidence. The LPGA sophomore left Phoenix with a five-stroke victory and a share of the tour's 72-hole scoring record of 27 under par, set by Annika Sorenstam at the 2001 Ping Standard Register at nearby Moon Valley Country Club.
First prize was $225,000.
Kim couldn't get over the fact that she shot 10-under 62 to close the tournament with a 261 aggregate.
"After I check the score card, I asked Paul (Fusco), my caddy, I said, 'Did I shoot 10-under?" said Kim. "Oh, my God. It's amazing."
Kim faced an 18-foot birdie putt on the 72nd hole to beat Sorenstam's record of 27 under but settled for par.
"It's hard to believe it's only her second year on the LPGA," said Sorenstam. "This should give her nice momentum as she heads into the ANA Inspiration looking for her first major championship."
Kim was the second player to shoot 62 at this desert birdie-fest. Mi Hyang Lee shot 9-under 27 on her front nine Thursday en route to a 62. She finished tied for 13th.
World No. 1 Lydia Ko was Kim's closest competition. She sizzled with a 65 on Sunday to finish solo second.
Jacqui Concolino posted a career-best third place showing, giving her more money in four events in 2016 ($111,867) than she made all of last season.
Kim, the 2015 Louise Suggs Rolex Rookie of the Year, now owns four LPGA titles. She's projected to move to No. 5 in the Rolex Rankings, trailing only World No. 2 Inbee Park among South Koreans. She's the third South Korean to win this season.
Fusco said Kim stayed calm throughout the round and pointed to No. 11 as a key point in the round. Kim struck a 5-wood from 245 yards out to 2 feet, setting up an easy eagle.
"Last couple tournaments, I lost my confidence," said Kim. "But after this tournament, I come back, say 'I'm Kim.' "
Stacy Lewis, who finished T4 with a 70 for 269, blew her chances of winning with a double bogey 5 at the short fourth.
She had birdied the third but that 5 saw her "lose" two shots to almost all her rivals on the crowded leaderboard.
FINAL TOTALS
par 288 (4x72)
1

Sei-Young Kim

63

66

70

62






261

$225,000

2

Lydia Ko

70

67

64

65






266

$138,527

3

Jacqui Concolino

68

64

68

68






268

$100,492

T4

Megan Khang

68

69

66

66






2 69

$54,379

T4

Paula Creamer

69

65

67

68






2 69

$54,379

T4

Brooke Henderson

68

69

65

67






2 69

$54,379

T4

Eun-Hee Ji

66

67

65

71






2 69

$54,379

T4

Stacy Lewis

70

65

64

70






2 69

$54,379

T9

Paula Reto

67

67

70

66






2 70

$29,863

T9

Ryann O'Toole

68

66

69

67






2 70

$29,863

T9

Brittany Lang

63

68

71

68






2 70

$29,863

T9

Kim Kaufman

67

68

67

68






2 70

$29,863

T13

Cristie Kerr

69

66

71

65






271

$21,084

T13

Ha Na Jang

70

68

68

65






271

$21,084

T13

Sung Hyun Park

66

71

68

66






271

$21,084

T13

Gerina Piller

65

68

71

67






271

$21,084

T13

Karine Icher

67

67

70

67






271

$21,084

T13

Mi Hyang Lee

62

75

66

68






271

$21,084

T13

Pernilla Lindberg

65

70

67

69






271

$21,084

T20

Sakura Yokomine

68

68

69

67






272

$16,837

T20

Minjee Lee

65

69

70

68






272

$16,837

T20

Mirim Lee

68

68

67

69






272

$16,837

T23

Na Yeon Choi

71

69

66

67






273

$14,501

T23

Thidapa Suwannapura

70

69

67

67






273

$14,501

T23

Sun Young Yoo

67

69

69

68






273

$14,501

T23

Anna Nordqvist

65

73

67

68






273

$14,501

T23

Jenny Shin

67

72

66

68






273

$14,501

T28

Hyo-Joo Kim

69

69

69

67






274

$11,922

T28

Christina Kim

72

68

67

67






274

$11,922

T28

Shanshan Feng

71

66

69

68






274

$11,922

T28

Sydnee Michaels

69

68

68

69






274

$11,922

T28

Alena Sharp

73

68

64

69






274

$11,922

T33

Amy Yang

75

66

69

65






275

$9,158

T33

Hannah O'Sullivan (am)

72

64

72

67






275

-

T33

Mika Miyazato

68

69

70

68






275

$9,158

T33

Mo Martin

67

70

69

69






275

$9,158

T33

Candie Kung

68

70

68

69






275

$9,158

T33

Amelia Lewis

70

68

68

69






275

$9,158

T33

Pornanong Phatlum

67

71

67

70






275

$9,158

T33

Jennifer Johnson

67

69

68

71






275

$9,158

T33

Carlota Ciganda

70

67

64

74






275

$9,158

T42

Cydney Clanton

68

70

72

66






276

$7,129

T42

Casey Grice

71

67

70

68






276

$7,129

T42

Se Ri Pak

69

68

69

70






276

$7,129

T42

So Yeon Ryu

70

66

68

72






276

$7,129

T46

Juli Inkster

70

70

69

68






277

$6,333

T46

Giulia Sergas

64

68

74

71






277

$6,333

T48

Katherine Kirk

73

68

70

67






278

$5,878

T48

Kelly Tan

69

68

71

70






278

$5,878

T50

Ariya Jutanugarn

67

71

72

69






279

$5,094

T50

Caroline Masson

69

66

74

70






279

$5,094

T50

Jodi Ewart Shadoff

74

66

69

70






279

$5,094

T50

Nontaya Srisawang

73

68

67

71






279

$5,094

T50

Moriya Jutanugarn

70

67

70

72






279

$5,094

T50

Sadena Parks

69

68

69

73






279

$5,094

T56

Jennifer Song

67

69

73

71






280

$4,247

T56

Azahara Munoz

71

70

68

71






280

$4,247

T56

Bertine Strauss

69

67

72

72






280

$4,247

T56

Mina Harigae

70

68

70

72






280

$4,247

T56

Brittany Lincicome

70

68

69

73






280

$4,247

T61

Katie Burnett

68

70

75

68






281

$3,678

T61

Joanna Klatten

68

72

73

68






281

$3,678

T61

Vicky Hurst

71

66

73

71






281

$3,678

T61

Lindy Duncan

71

70

68

72






281

$3,678

T65

Belen Mozo

69

72

70

71






282

$3,451

T65

Budsabakorn Sukapan

70

68

65

79






282

$3,451

67

Tiffany Joh

70

70

72

71






283

$3,337

T68

Annie Park

66

72

75

71






284

$3,185

T68

Beatriz Recari

71

70

73

70






284

$3,185

T68

Felicity Johnson

72

67

74

71






284

$3,185

T71

Haru Nomura

71

70

70

74






285

$3,015

T71

Maude-Aimee Leblanc

73

68

70

74






285

$3,015

T73

Laura Davies

70

68

75

74






287

$2,938

T73

Wei-Ling Hsu

69

72

69

77






287
Labels: LPGA TOUR