Christie Kerr win over Mel Reid seals
International Crown for USA
SKYSPORTS.COM
By Ben Reynolds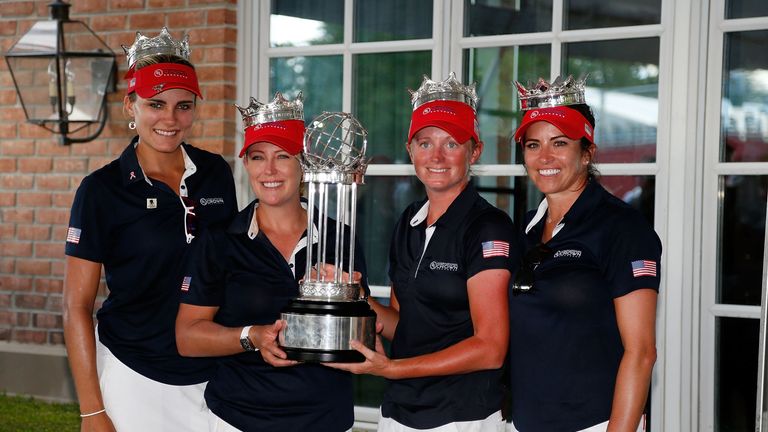 Cristie Kerr birdied the par-five 16th to earn the United States victory at the LPGA UL International Crown in Chicago.
The Americans, who failed to even qualify for the decisive last-day singles matches in the 2014 inaugural edition of the event, scored 13 points over the four-day event to beat South Korea by one point, with England and Taiwan finishing on 11 points.
Kerr led from first hole to last to beat England's Mel Reid 3 and 2 to secure the triumph and complete a miserable day for England, who had entered the final day on top only for defeats to Reid, Holly Clyburn and Charley Hull to allow the USA and South Korea to move above them.
Lexi Thompson, Stacy Lewis, Gerina Piller and Kerr combined for a 6-3 with one halved record through three days of four-ball matches and the singles, taking the title after having lost both matches to England on the opening day of the tournament.
"It's huge," Lewis said. "This week has been unbelievable for us. To be called the best golfing nation I think is pretty satisfying.
"We never gave up. We had zero points the first day, and we still ended up with the most. It's just a testament to them and their will to want to win this thing."
Jodi Ewart Shadoff did salvage something from the day for England with a one-up victory over Taipei's Ssu-Chia Cheng but it was not enough.
"I just tried to take care of my match. I didn't know that it had come down to me winning that match that we had won until Stacy told me," added Kerr.
"I just kind of got oblivious to all of that because it's just so hard to figure out who's making points, who's winning, who's losing.
"I knew some good things were happening but it was getting really hot out there. I tried to play as well as I could coming in. Yeah, it's very satisfying."
Why do the Americans make match-play scoring/results so complicated?
See if you can make head nor tail of their final scoreboard from this tournament
CLICK HERE
Labels: LPGA TOUR