Catriona's Swinging Skirts bid falters
with a 78 but she earns $31,638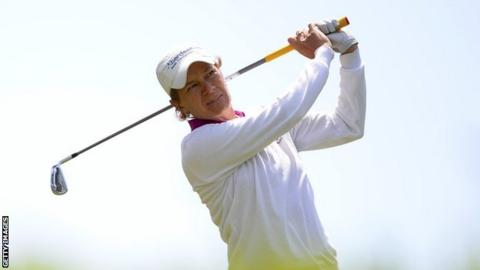 The 46-year-old finished in a tie for 13th place, 10 shots behind four-stroke winner Haru Nomura of Japan.
Matthew made five bogeys as well as a double bogey at the par-four 16th, with her lone birdie coming at the eighth.
The Scot earned $31,638
None of the top 10 after the third round broke par as winds reached 40mph at Lake Merced, Daly City, on Sunday.
Yorkshire's Jodi Ewart Shadoff tied for 27th after a final-round 76 and earned $15,359, while Michelle Wie of the United States withdrew following her 15th hole after suffering neck spasms.
World number one Lydia Ko of New Zealand made four bogeys as she went out in 40 en route to a closing three-over 75 for a share of sixth with American Lexi Thompson.
ALL THE FINAL TOTALS AND PRIZEMONEY
| | | | | | | | | | |
| --- | --- | --- | --- | --- | --- | --- | --- | --- | --- |
| 1 | Haru Nomura | 65 | 70 | 71 | 73 | | | 279 | $300,000 |
| 2 | Lee-Anne Pace | 71 | 69 | 69 | 74 | | | 283 | $181,723 |
| T3 | Gerina Piller | 70 | 69 | 72 | 73 | | | 284 | $116,903 |
| T3 | Na Yeon Choi | 68 | 70 | 71 | 75 | | | 284 | $116,903 |
| 5 | So Yeon Ryu | 63 | 75 | 73 | 75 | | | 286 | $82,081 |
| T6 | Lexi Thompson | 72 | 74 | 70 | 71 | | | 287 | $51,438 |
| T6 | Jenny Shin | 72 | 73 | 70 | 72 | | | 287 | $51,438 |
| T6 | Mi Jung Hur | 72 | 72 | 69 | 74 | | | 287 | $51,438 |
| T6 | Lydia Ko | 68 | 71 | 73 | 75 | | | 287 | $51,438 |
| T6 | Brooke Henderson | 71 | 71 | 69 | 76 | | | 287 | $51,438 |
| T11 | Tiffany Joh | 70 | 73 | 70 | 75 | | | 288 | $36,065 |
| T11 | Minjee Lee | 73 | 65 | 74 | 76 | | | 288 | $36,065 |
| T13 | Brittany Lang | 69 | 70 | 74 | 76 | | | 289 | $31,638 |
| T13 | Catriona Matthew | 68 | 72 | 71 | 78 | | | 289 | $31,638 |
| T15 | Eun-Hee Ji | 70 | 78 | 73 | 70 | | | 291 | $26,664 |
| T15 | Carlota Ciganda | 74 | 68 | 76 | 73 | | | 291 | $26,664 |
| T15 | Danielle Kang | 69 | 72 | 75 | 75 | | | 291 | $26,664 |
| T15 | Ryann O'Toole | 69 | 73 | 72 | 77 | | | 291 | $26,664 |
| T19 | Karine Icher | 71 | 68 | 80 | 73 | | | 292 | $20,931 |
| T19 | Christina Kim | 72 | 71 | 75 | 74 | | | 292 | $20,931 |
| T19 | Juli Inkster | 74 | 74 | 70 | 74 | | | 292 | $20,931 |
| T19 | Ariya Jutanugarn | 71 | 74 | 73 | 74 | | | 292 | $20,931 |
| T19 | Chella Choi | 73 | 73 | 70 | 76 | | | 292 | $20,931 |
| T19 | Su-Hyun Oh | 70 | 71 | 74 | 77 | | | 292 | $20,931 |
| T19 | Hee Young Park | 74 | 70 | 71 | 77 | | | 292 | $20,931 |
| T19 | Julie Yang | 72 | 68 | 74 | 78 | | | 292 | $20,931 |
| T27 | Jessica Korda | 72 | 73 | 77 | 71 | | | 293 | $15,359 |
| T27 | Kim Kaufman | 71 | 77 | 73 | 72 | | | 293 | $15,359 |
| T27 | Stacy Lewis | 72 | 76 | 71 | 74 | | | 293 | $15,359 |
| T27 | Jodi Ewart Shadoff | 73 | 73 | 71 | 76 | | | 293 | $15,359 |
| T27 | Xi Yu Lin | 67 | 75 | 74 | 77 | | | 293 | $15,359 |
| T27 | Sadena Parks | 73 | 74 | 69 | 77 | | | 293 | $15,359 |
| T27 | Shanshan Feng | 74 | 69 | 71 | 79 | | | 293 | $15,359 |
| T27 | In Gee Chun | 71 | 74 | 68 | 80 | | | 293 | $15,359 |
| T35 | Hyo Joo Kim | 73 | 75 | 75 | 71 | | | 294 | $11,740 |
| T35 | Mo Martin | 76 | 72 | 73 | 73 | | | 294 | $11,740 |
| T35 | Cristie Kerr | 71 | 73 | 76 | 74 | | | 294 | $11,740 |
| T35 | Gaby Lopez | 73 | 74 | 72 | 75 | | | 294 | $11,740 |
| T35 | Kelly Tan | 70 | 72 | 76 | 76 | | | 294 | $11,740 |
| T40 | Alena Sharp | 73 | 74 | 77 | 71 | | | 295 | $8,705 |
| T40 | Amy Yang | 72 | 71 | 80 | 72 | | | 295 | $8,705 |
| T40 | Marina Alex | 72 | 76 | 74 | 73 | | | 295 | $8,705 |
| T40 | Min Lee | 71 | 74 | 76 | 74 | | | 295 | $8,705 |
| T40 | Amy Anderson | 72 | 76 | 73 | 74 | | | 295 | $8,705 |
| T40 | Mariajo Uribe | 71 | 73 | 76 | 75 | | | 295 | $8,705 |
| T40 | Ssu-Chia Cheng | 73 | 73 | 74 | 75 | | | 295 | $8,705 |
| T40 | Anna Nordqvist | 73 | 74 | 72 | 76 | | | 295 | $8,705 |
| T40 | Azahara Munoz | 70 | 72 | 76 | 77 | | | 295 | $8,705 |
| T40 | Sakura Yokomine | 73 | 72 | 70 | 80 | | | 295 | $8,705 |
| T50 | Mina Harigae | 76 | 72 | 75 | 73 | | | 296 | $6,268 |
| T50 | Jaye Marie Green | 72 | 73 | 77 | 74 | | | 296 | $6,268 |
| T50 | Mika Miyazato | 73 | 70 | 77 | 76 | | | 296 | $6,268 |
| T50 | Lee Lopez | 72 | 74 | 74 | 76 | | | 296 | $6,268 |
| T50 | Nasa Hataoka | 73 | 73 | 73 | 77 | | | 296 | $6,268 |
| T50 | Angel Yin | 70 | 71 | 77 | 78 | | | 296 | $6,268 |
| T50 | Candie Kung | 65 | 79 | 74 | 78 | | | 296 | $6,268 |
| T50 | Morgan Pressel | 72 | 71 | 73 | 80 | | | 296 | $6,268 |
| T58 | Wei-Ling Hsu | 69 | 75 | 77 | 76 | | | 297 | $5,174 |
| T58 | Mi Hyang Lee | 69 | 71 | 78 | 79 | | | 297 | $5,174 |
| T58 | Brittany Lincicome | 71 | 74 | 72 | 80 | | | 297 | $5,174 |
| T61 | Sandra Changkija | 72 | 75 | 76 | 75 | | | 298 | $4,776 |
| T61 | Lindy Duncan | 73 | 73 | 77 | 75 | | | 298 | $4,776 |
| T61 | Cheyenne Woods | 73 | 75 | 74 | 76 | | | 298 | $4,776 |
| T64 | Christel Boeljon | 67 | 75 | 82 | 75 | | | 299 | $4,378 |
| T64 | Bertine Strauss | 76 | 72 | 77 | 74 | | | 299 | $4,378 |
| T64 | Katherine Kirk | 70 | 74 | 76 | 79 | | | 299 | $4,378 |
| T64 | Julieta Granada | 70 | 75 | 75 | 79 | | | 299 | $4,378 |
| T64 | Moriya Jutanugarn | 69 | 74 | 75 | 81 | | | 299 | $4,378 |
| 69 | Ashlan Ramsey | 73 | 75 | 74 | 78 | | | 300 | $4,079 |
| T70 | Rachel Rohanna | 68 | 78 | 80 | 75 | | | 301 | $3,880 |
| T70 | Vicky Hurst | 74 | 74 | 78 | 75 | | | 301 | $3,880 |
| T70 | Grace Na | 74 | 74 | 74 | 79 | | | 301 | $3,880 |
| T70 | Caroline Masson | 72 | 74 | 74 | 81 | | | 301 | $3,880 |
| T70 | Austin Ernst | 73 | 74 | 73 | 81 | | | 301 | $3,880 |
| T75 | Pannarat Thanapolboonyar | 72 | 75 | 78 | 77 | | | 302 | $3,664 |
| T75 | Ya-Chun Chang | 71 | 77 | 76 | 78 | | | 302 | - |
| T75 | Pornanong Phatlum | 76 | 72 | 76 | 78 | | | 302 | $3,664 |
| T75 | Tzu-Chi Lin | 72 | 73 | 76 | 81 | | | 302 | $3,664 |
| T75 | Kelly Shon | 76 | 69 | 76 | 81 | | | 302 | $3,664 |
| 80 | Nontaya Srisawang | 72 | 76 | 73 | 82 | | | 303 | $3,548 |
Labels: LPGA TOUR