Karrie Webb and long-time caddie Mike Paterson call it a day after 15 years in harness together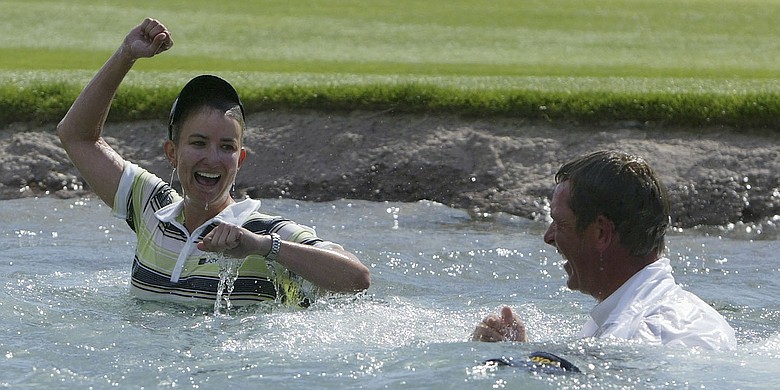 One of the longest player/caddie relationships on the LPGA Tour has come to an end. Karrie Webb and her caddie of 15 years, Mike Paterson, worked together one last time Sunday at the the Toto Japan Classic.
It was an amicable split, with Webb telling Paterson that if he ever got an offer on the LPGA Tour, to not feel beholden to her.
"As a friend, I want the best for him and want him to take on new challenges," Webb told Golfweek in an email.
Paterson will be working for another Aussie, John Senden on the US PGA Tour.
"The highlight of our working relationship will certainly be when I holed a wedge from 116 on the 72nd hole of Kraft Nabisco in 2006," Webb told Golfweek
"I think we were both 10-foot tall and bulletproof the moment the ball went in. Mikey definitely was, considering he had the bag on his back and caught me jumping into his arms!"
Webb has only the CME Tour Championship left on her schedule in 2015 and will have veteran looper Jonny Scott on the bag. The LPGA Hall of Famer has said that she plans to evaluate how much longer she'll compete on the LPGA full time following the 2016 Olympics.
On several occasions, Webb has noted that she valued most the loyalty Paterson showed over the years and considers him to be one of her closest friends.
"Mikey will always be a part of my life in the future," she wrote.
Labels: PRO GOLF